Today, employees still remain the biggest threat to your corporate data.
It is important to monitor all employees, despite their level in the company. They might be innocently browsing the Target website or watching cat videos on YouTube, but these actions could actually open up avenues for potential hackers and put your company at a higher risk for a security breach.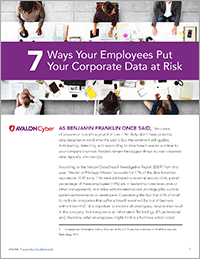 Download our whitepaper, 7 Ways Your Employees Put Your Corporate Data at Risk.
This whitepaper will help your company:
See what employee behaviors put your data at risk of being stolen
Determine what security training is needed
Reduce its overall risk of a security breach