Rebranding your business is a huge task, one that needs to be carefully planned and implemented. For those who think rebranding is just a new logo and website, think again. Rebranding, in addition, should echo the company's core values and mission. So how do you know when and if your company should rebrand?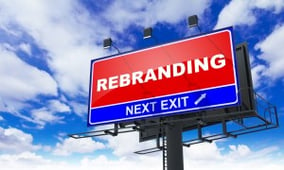 The first part of rebranding is to identify exactly why the company is re-branding. Companies rebrand for several reasons. While there is typically one main reason for making the change, the drive behind a rebranding project is often a combination of several factors.
Outdated Image – On average organizations change their corporate identities about once every seven to ten years. As trends change overtime brands sometimes become viewed as old fashioned. In attempt to keep the brand modern and with the times, rebranding is essential.
Geographical Change - When companies expand their business into other parts of the state, county, or even internationally, sometimes it is necessary to rebrand. If the company name has a city or region in its name that will not apply to the new market, rebranding will be needed. Perhaps the company is going international, the current brand may invoke the wrong impressions or may be too specific to the current country the company operates in.
Bad Reputation – Bad reputation forever tarnish brands. Rebranding safeguards that all negative connotations with that brand are eradicated and dissipated. While the image and exterior changes are important, it is just as important that changes are implemented behind the scenes as well. The bad reputation was not because the company logo was disliked or outdated. It is because the company practiced some sort of misconduct that was unfavorable to their target audience.
Mergers, Acquisitions, and Demergers – For the majority, anytime there is a change in ownership the result is rebranding. In the case of mergers and acquisitions, the new company may develop an entirely new brand or keep the name of one of the parties. For demergers, each company must comply with legal requirements, and also develop their own brands to make it clear that they are separate companies.
New Product or Business Line – This is also referred to as re-positioning. When the business expands on the original scope of products or services, it may be time to rebrand. For example, the company once only offering product/service X, and now offering product/service X and Y, in which Y opens the business to a new client base. The brand will need to be relevant and recognizable to all industries and consumers targeted.
Change in Management – Often when there is change in management, there will be a different set of values in conducting business. Major organizational changes influence the path that the company takes. When these major changes take place, it may be a good time to rebrand to show your audience that something is new and fresh.
Unmemorable – If companies are not getting any return customers or new customers, it could be that the brand is not memorable enough. Sometimes brand identities are too overly complicated, or difficult for customers to remember any one thing. In addition, some brands are too generic and not recognizable among the logos we see every day.
Once you have actually decided that rebranding is needed, it is time to actually start the process and implement the changes. Check out Rebrand.com's 10 Essential Tips to Implementing Your Brand Successfully to help you get our rebrand off to the right start.
When your company is ready to update marketing material with the new brand identity, be sure to give Avalon a call. We have helped many of our clients with their rebranding by printing their updated collateral. Whatever you need - business cards, letterhead, envelopes, outdoor and indoor signs, vehicle wrap and decals, brochures and white papers - Avalon can help make the rebranding process that much easier.
If you liked this blog you might also be interested in reading: The Impact of Personalized Print
---
Learn how Avalon's secure print and mail services allow you to focus on the bigger picture.