Now that you have your documents printed or your copies made, how should you keep them all together? Why by binding them of course. While some may think it is as easy as telling a vendor to just print and bind your documents, they may be forgetting they have a wide variety of options to choose from. While vendors may have suggestions, they will like not make that decision for you.
The binding method is usually selected by the function of the document before anything else. Then from there, page count should be taken into consideration as well as your budget. Some binding options will burn hole in your pocket. Binding itself can be part of the conceptual design of your report or book, but typically esthetics is considered last when making the bind decision.
Saddle Stitching is probably the most common and economical binding method. The process of saddle stitching involves securing loose printed pages with staples down the middle of a folded bundle of paper. Although this binding option is the cheapest, it has its restrictions. While the other binds can accommodate hundreds of pages due to the variety of available sizes, you must remember that staples are not made large enough to hold a 1" thick document. Typically anything over 15 sheets is difficult to saddle stitch.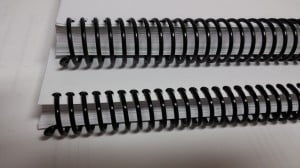 Spiral Binding is also known as Coil binding and are reasonably priced and readily available. Spiral binding allows the book to lie flat when open. If desired pages can be wrap all the way around to the back for easy copying or reading. The printed pages are hole punch, the plastic coil is then threaded through the holes, and the ends are crimped to prevent the coil from unthreading. The spines of the spiral binds are flexible and retain their shape which makes this bind option an ideal candidate for documents that have to be shipped. Spiral binds are available in more than 60 different colors which is great for branding purposes. They are also available in sizes up to 2", however binding documents over 1" thick can be difficult.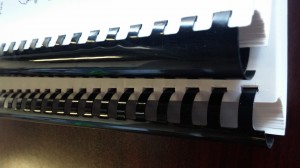 Comb Binding is also known as GBC binding and is a common method suited for manuals and specification books that need to lay flat when open. The printed pages are punched with rectangular holes and the rings on the spine open allowing the pages to be inserted through the teeth of the bind. The pages then rest against the body of the spine, resulting in a closure that can be opened again for making changes to the book. Plastic comb bindings are available in several colors and in sizes up to 2". Comb binding is the most economical outside of saddle stitching, however not as sturdy as spiral or wire binding.
Tape Binding is also known as Thermal binding which involves an adhesive tape being wrapped around the spine to hold the covers and inside pages together. Tape binding is an affordable and practicable option for your training materials, manuals, handbooks, and guides. Tape binding is sturdy enough for materials that will require multiple uses and is a quick, easy way to give any document a perfect "book finish."
Velo Binding is perfect for anything that you want to make difficult to copy. The binding process involves punching 11 small holes along the edge of the pages. Then a strip of plastic with rigid tines is inserted into the holes from the top, and a strip with corresponding holes is placed on the back with the tines protruding through. The book is then placed in a machine which holds the book tightly while cutting off the excess of the tines. Those tips are then heated and melted to seal the bind. This is a permanent bind making it very difficult to remove pages from. A book that is velo bound can also not lay flat.
Wire Binding uses formed wire that threads through punched holes allowing the books to lay flat when open. Wire binding is the most popular style for those who want a professional look and is a durable option for a wide variety of project types. While wire binding provides an elegant look it is slightly more expensive than coil binding. Wire loops are available in a variety of colors which is great for branding or matching the cover color.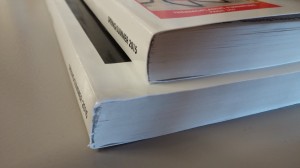 Perfect Binding is also known as soft cover binding. The perfect bind process involves taking sections of folded pages and trimming their spines off so that the edges are roughed up to improve bonding with glue. Next all sections are collated and glued to its wrap-around cover. This type of bind is what you see on paperback books and looks awesome for larger presentations. A perfect bound book is permanent so you cannot remove pages, it will not lay flat, and is not as sturdy as other options. Compared to most other methods, perfect binding is on the more expensive side.
Hardcover Binding is also known as case binding. Hardcover binding involves the inside pages being sewn together in sections. These are then either glued to end papers which are glued to cover's spine or are gathered and sewn together along the spine. Documents that are usually case bound are yearbooks, children's books, novels, vanity books, coffee table books, art books, law books, medical books and most custom text books. Strength and durability are the major advantages you reap from the various case binding techniques. However, this method is the most expensive of all methods.
If you liked this blog you might also be interested in reading: Writing a Business Proposal Doesn't Have To Be Hard
---
Learn how Avalon's secure print and mail services allow you to focus on the bigger picture.