It has been a very exciting, yet busy time for the team at Avalon. In early December, our Utica office made a very short move in from its former 421 Seneca Street location to an office just around the corner, on the opposite side of the building located at 54 Franklin Square, Suite B. More recently, our Buffalo office also made a short move from the former 721 Main Street location to its new 741 Main Street location only a few doors up the road.
Avalon Utica's new space is larger than it's previous, the space is in a prime location and was fully renovated before the move. We have done a great job with making the new space an Avalon home and we are fully settled in.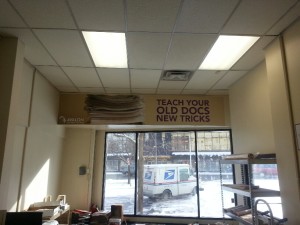 Luckily, we are able to print all of our own signage. In Utica, we wasted no time hanging up signs around the new space and covering the front windows.
The new office now faces the main drag in Utica, also known as Genesee Street to the locals. With the ability to print on perforated vinyl, we figured out a great way to keep our facility confidential and to let people know right where Avalon is.
This past weekend in Buffalo, we found ourselves in the midst of the biggest move since the inception of an Avalon in Buffalo. While we had been in the previous space for five years, it was sad to see that chapter close, but it was definitely time for a larger space. Avalon Buffalo nearly doubled its square footage with some room left for future expansion.
Construction on the new Buffalo location began in July 2013 and while there are a few finishing touches left, Avalon Buffalo is fully operationally in the new space. To see the progress of the space from start to finish is remarkable.
Don't worry - the cookies made it safely to each of their new locations. Oh, and the machines did too!
Avalon would like to extend a special thanks to all team members who helped with the either of the moves. More importantly, THANK YOU to all of our clients. Without your continued support, our growth and success would not be possible!