We've told you before that we're experts in eDiscovery. You may or may not have believed us.
But here's some proof.
Lewis Airth, Kevin Balogh, Josh Burke, Dan DeJoy, Scott Huter, Michael Kempton, Clint Rhoton, and Jason Schroeder, all eDiscovery representatives at Avalon, recently passed the Certified E-Discovery Specialist (CEDS™) examination. They are also now certified to gloat because this has become a crucial qualification in eDiscovery.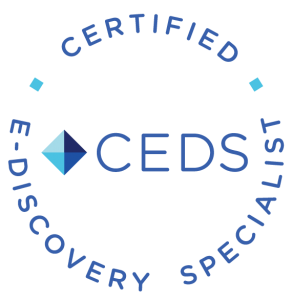 Our team members each demonstrated self-discipline and determination because becoming certified means completing the necessary training on your own, and then taking a final exam. There are several training seminars, from an introductory course for people just entering the field, to live web seminars that cover hot topics in eDiscovery. And the test covers 15 major areas of emphasis by way of 220 questions.
Two. Hundred. And. Twenty. If you're anything like me, the thought of passing a final exam is enough to steer me away from any certification.
So, let's hear it for our team! We already knew they were special, but now so does the Association of Certified E-Discovery Specialists.
If you liked this blog you might also be interested in reading: Avalon Becomes Relativity Premium Hosting Provider
---
Learn how Avalon's Managed eDiscovery Services helped one litigation support manager increase his realization rate to 90%