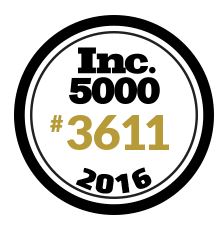 To brag about being an eight-time honoree for anything would be obnoxious, so let's just say Inc. magazine might know our name by now. Climbing the charts from No. 4925, Avalon landed at No. 3611 on Inc. 5000, an exclusive ranking of the nation's fastest-growing private companies.
Ok, so we can't compete with Paint Nite, a group-painting-at-a-bar business that ranked No. 2 on the list, or Remarkable Liquids, distributors of craft beer and cider that came in at No. 36, but that's because they have something we don't—booze. And that's just not a fair fight.
But we know how to have fun too.
In the past 3 years, we've grown 86% and generated $11.4 million revenue. We've moved our business into the southeast by opening a Florida office. We've joined forces with both DIGITS, LLC, and Southeastern Document Services in the past year. Some of our eDiscovery professionals became CEDS certified this summer. And we landed ourselves on the 35th annual Inc. 5000, which includes an invite to their annual conference and awards ceremony. The event offers workshops, keynote speakers, and evening functions. We're just hoping the Paint Nite and Remarkable Liquids guys will be there with their products.