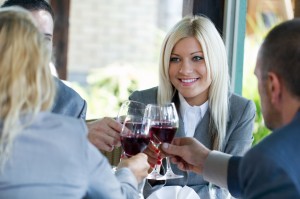 We all know how much preparation and dedication goes into taking a state Bar Exam. Newly graduated law students prep for months on end to fulfill their dreams of becoming a lawyer. For some, their hard work and determination pays off, and unfortunately for others, the preparation begins all over again.
Speaking for most, the ultimate and most rewarding feeling is when you have dedicated so much time and effort on something and the end result is complete success. These are the moments in life when you want to put on your party pants and celebrate! Luckily for the newly admitted lawyers of Ohio, the Cleveland Metropolitan Bar Association (CMBA) does just that.
On November 18th, the CMBA held their semi-annual Celebration for New Lawyers to welcome and honor those who passed the Ohio Bar Examination taken in July. This welcoming reception provides a great opportunity for conversation and networking between the new lawyers and other members in the legal community. The celebration welcomes about 100 people, including judges and magistrates and of course the new lawyers.
Joe Grespin, Avalon's Vice President of Business Development, was fortunate enough to attend the celebration along with a guest from the legal community. Avalon, again, was more than happy to be a sponsor of the CMBA, donating signage for the event. "It was an honor to be a part of the Celebration for New Lawyers Event held at the CMBA Headquarters," says Joe Grespin. "The event was well attended with Cleveland Area Judges, a cordial CMBA staff and newly minted attorneys. I enjoyed meeting so many new people and making new friends in the Cleveland legal community."
The CMBA is a nonprofit organization made up of nearly 6,000 members with its reach being primarily in Cleveland and Cuyahoga County, making it the largest legal community in Ohio. The CMBA is the center for legal professionalism in these regions and its purpose is to promote the rule of law, sustain and improve the quality of and public test in the administration of justice and the legal profession, and enhance the Greater Cleveland through member, civic, and community service and leadership.