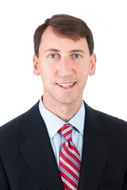 Avalon will be regularly highlighting one of our expert e-discovery clients in a spotlight blog. This way you don't have to just take our word for it.
This spotlight is on John Cook, a Partner at Barclay Damon in their Syracuse office. He represents a wide range of clients in complex commercial litigation and intellectual property litigation matters. In addition, he frequently serves as local and co-counsel in cases in the Northern District of New York and other venues in Upstate New York.
---
Tell us about your background and how long you have been working with cases involving eDiscovery?
My legal practice is focused on complex commercial litigation matters. For the past decade, I have spent a substantial portion of my time litigating intellectual property issues in various forums across the country. The utilization of eDiscovery technologies has become the norm, but I recall a time when that was not the case. The benefits that can be achieved through the use of the available (and rapidly evolving) resources have been remarkable over that time.
Have you used any advanced tools in eDiscovery cases such as email threading or predictive coding? Why or Why not?
In some circumstances, the use of advanced eDiscovery tools makes sense and can be very helpful. However, the decision to do so is best made in consultation with the client and an experienced eDiscovery vendor, like Avalon, to make sure that it is the right approach in view of the desired goal and any budget or other considerations that may exist. As such tools gain wider acceptance and the associated costs decrease; I expect that their use will become more prevalent and common.
Do you believe that your clients are becoming savvy to the eDiscovery process and costs?
Clients have become much more knowledgeable concerning eDiscovery issues over the years. This is a direct result of the broader use of eDiscovery technologies in nearly every litigated matter. While they recognize the need to utilize such tools, they do so with an eye towards the associated expenses in order to ensure that the anticipated benefits are justified by the costs.
What do you believe are the biggest eDiscovery challenges that companies are facing today?
While great strides have been made in the availability and benefits of eDiscovery technologies, they still are not perfect, and they rely substantially on the user and his/her ability and experience to achieve a desired outcome. Through greater understanding and focus on the user's needs, additional improvements can be made, leading to better products.
In your experience, how well versed are the attorneys you oppose in eDiscovery and what kind of challenge does that create for you in your practice?
These days, most attorneys that I come across in my practice are well versed and experienced in eDiscovery matters. As a result, there typically is an understanding that positions that are likely to lead to a mutually assured destruction are not in anyone's best interest, leading to a collaborative process directed towards achieving desired results, not creating unnecessary disputes. This works to everyone's benefit, and eliminates challenges that might otherwise exist.
If you liked this blog article you might also want to check out our eDiscovery Spotlight Featuring Donald McCann, Benesch Law
---
Download our free whitepaper to explore cost recovery opportunities through managed services.