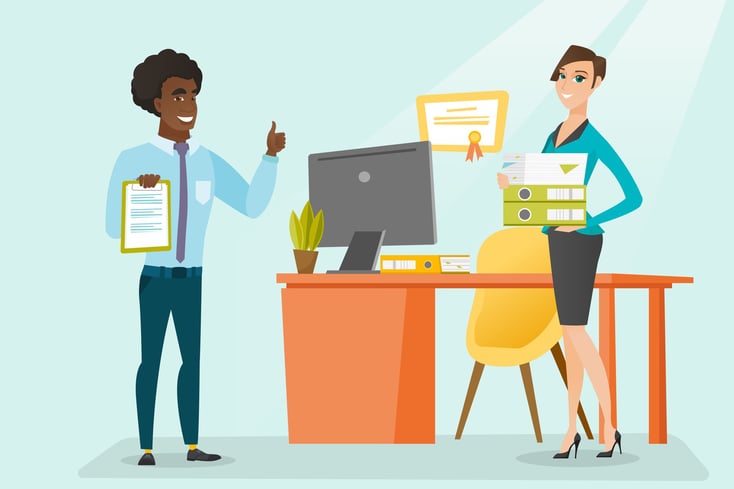 Managed office services (MOS), part of Avalon's Business Process Outsourcing (BPO) division, can mean different things to different businesses and industries. To us, as an MOS provider, one of the simplest definitions is: MOS can make your day-to-day a lot less tedious.
MOS means someone else (other than you or your team members) is managing your copy room and organizing your files. It means someone else is greeting your clients and answering your phones. It means someone else is handling the dozens and dozens of administrative functions, so you and your employees can all focus on your primary duties.
Here are three ways Avalon's MOS experts can help your office run more efficiently – and effortlessly:
1) Leave the recruiting to us. With MOS, you won't have to worry again about finding administrative staff members for your office again. Avalon will find the right candidates, review their resumes, and interview them. Then we train the best of the best to know your company's systems and processes inside and out and place them in your office.
2) Mind your own business. Now that you have our highly-trained MOS experts handling your back-office operations, you have more time to focus on actual work – you know, the work that actually brings in the money. In addition to sending in receptionists, copy technicians, and other staff to field phone calls, copy documents, and assist with your daily operations, we can also develop and implement charge‑back recovery systems to reduce the overhead expenses associated with these daily tasks.
3) Hold the temp agency, please. We also train backup personnel specifically on your operating systems in case an MOS team member calls in sick or schedules a vacation. We just slide that other person in without you noticing. No offense to you – we're just that smooth.
Keep in mind that someone else performing all these back-office tasks for you is just one part of MOS. There are so many other ways in which these services can help your business succeed, including cost recovery systems and procedures, streamlining invoicing, and more.
Learn about all the benefits you could experience through Avalon's managed office services by contacting our outsourcing experts today.