We've all witnessed the increased importance and stress on protecting our environment. It is very unlikely that when someone hears the phrase "going green" they do not understand its meaning.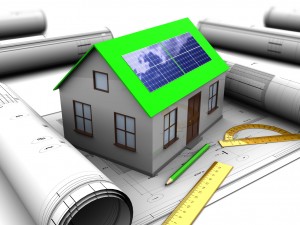 Saving the environment is a top priority and focus for many different industries. Every day we hear or read about "green" transportation, the need to recycle, the rise of solar energy, shopping local, building wind mills, or the use reusable produce bags over plastic bags. It should come as no surprise that those in the design-build industry are as equally concerned with our environment.
Whether you are directly involved in the construction industry or not, you may want to know what green initiatives are available today. Below you will find a description of various "going green" initiative efforts and programs that exist in the construction industry today.
Green Globes is a science-based building assessment system that supports a wide range of new construction and existing building project types. Designed to allow building owners and managers select which sustainability features best fit their building and occupants, Green Globes recognizes projects that meet at least 35% of the 1,000 available points. Their custom-tailored approach helps those in the construction industry produce the most sustainable outcomes based on their building's type and purpose. Provide them with your basic project information and receive a quote for Green Globes third-party assessment and certification.
The US Environmental Protection Agency (EPA) put together the Construction Initative (CI) in effort to increase the recycling and reuse of industrial materials in building and transportation construction projects across the nation instead of using virgin materials. This collaborative effort increases awareness of the potential value and unique abilities of these materials to replace virgin materials in numerous construction applications.
U.S. Green Building Council LEED Program
LEED stands for Leadership in Energy & Environmental Design and is a green building certification program that acknowledges best-in-class building strategies and practices. LEED certified buildings must fulfill prerequisites and earn points based on the Green Building Rating System to achieve different levels of certification. LEED certified buildings save money and resources and have a positive impact on the health of occupants, while promoting renewable, clean energy. The Green Building Council offers online education courses for those in the industry to learn more about green building.
Green Construction Software
Heavy Equipment Sharing
Heavy construction equpiment will be increasinly shared between construction companies. In effort to reduce emissions, construction companies will begin to follow the EPA's initiative to do away with old machinery that give off the greatest emissions. In addition, more heavy equpiment rental companies can expect to see an increase in construction companies renting new equiment. To learn more read this whitepaper - Tech Innovations Drive Increases in Heavy Equipment Leases and Rentals.
While these efforts are just some of the ways construction companies are going green, there are certainly more initiatives out there and yet to come. The green construction trends for 2015 are expected to be big and game changing. Learn more about going green and the 2015 trends at GreenBiz.com.
If you liked this blog you might also be interested in reading: Is Your Company Using Construction Estimating Software
---
Download our free case study to learn how Avalon's legacy plan scanning can make your plans unseen but accessible.