On August 8th, Cleveland's design-build community came together for the 19th Annual Golf Outing hosted by the International Interior Design Association (IIDA) and the American Institute of Architects (AIA) Chapters of Cleveland at Sweetbriar Golf Club in Avon Lake, Ohio. Since the event's inception, this golf outing has been "the one" not to miss.
When you think of a golf tournament, most would use words like serious, quiet, or competitive to describe them. After speaking to Jeff Krejci of the IIDA, it was apparent that this golf outing was intentionally made to be the opposite of the standard golf tournament. The IIDA and AIA did not want people worrying about stacking their teams with the best golfers, and did not want the typical "longest drive" or "closest to the pin" competitions where golfers are worried about their performance.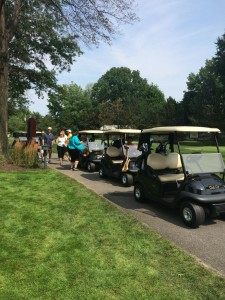 Jeff has been part of this golf outing since the beginning and explained that the IIDA and AIA wanted to create a relaxed, fun, and social atmosphere. An atmosphere where golfers weren't worried about if they were over the par or not, and where socializing, networking, and laughing were the focus of the event. Now we know what all the hype was about!
Each year the golf outing is themed, encouraging people to dress up for the chance to win the Costume Contest. Big Hair Bands being this year's theme, encouraged people to come dressed as their favorite Big Hair Band Rocker. Last year's theme being super heroes. Everyone knows how much fun it is to dress up, and the themed outing speaks to the atmosphere these organizations aim to create for the participants.
Avalon was fortunate enough to be part of the outing, not as golfers, but as sponsors. Even though we weren't golfing, we had just as much fun as they did. Kevin O'Donnell, Managing Partner of the Cleveland office, Kevin Balogh, Account Manager, and Ashley Koch, Director of Marketing, were there to represent Avalon and introduce the company to Cleveland.
As the Oasis Sponsor, Avalon set up shop on the 10th Hole, offering food, drinks, and our own contest, Korn Hole. We dove right into the Big Hair Band theme, styled with big hair wigs and giving away a Fender guitar to the contest winner. Brandon Dorsey for Vocon was the lucky man of the day, receiving the guitar at the dinner following the beautiful day of 18 holes. We hope you enjoy it!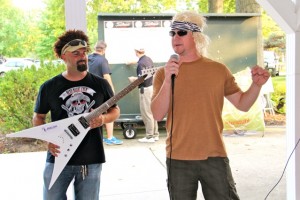 "When Avalon first decided to sponsor this event, we knew it was a relaxed and casual golf event. It was not until we started to interact with these people did we realize just how much fun there was to be had," said Kevin Balogh. "We thoroughly enjoyed the day and we met a ton of great people. Avalon is proud to support the IIDA and AIA and look forward to next year's event. Only one can wonder what we will be dressed up like next year!"