Benefits of Outsourcing Bid Management
---
If someone said to you, "Hey, I'll do all your holiday shopping this year. I'll coordinate with your friends and family regarding their wish lists. I'll wrap and deliver the gifts to the appropriate recipients. For free. And you'll receive the thank you cards." Would you take the deal? I know I would.
These days, more and more services are becoming outsourceable. Even construction bid projects are often being handled by vendors.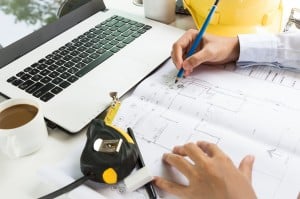 Avalon's online Planroom allows architecture firms and contractors to post their bid projects on a website for contractors and sub-contractors to purchase the plan drawings and specifications. Once the contractors receive the documents, they calculate a cost estimate for their services and then place a bid on the project or portions of the project that apply to their areas of expertise.
All of this can be done behind the scenes, without you even being contacted. Not that we don't trust you with your potential clients—we'd just prefer to do the work for you. That's how nice we are.
The following are three reasons your firm should use a vendor system to host your construction bid project.
1. It's free for everyone involved. Seriously. Firms host projects on our Planroom for free. Potential bidders don't need a membership in order to access public jobs. Anyone can view public jobs at any time. Even your mom, if she feels like it. Private jobs are accessed with a project password from the owner.
---
2.Orders come right to us. We receive the order, print the drawings and/or specifications, and contact the potential bidder when the documents are ready for pickup or are being shipped—all while you're getting through your regular work and catching up on the latest YouTube sensations.
Bid sets can be printed per order because printing is, like, our thing. Potential bidders won't be popping by your office to review or pick up bid documents. This saves you from having to guess at the number of sets you'll need on hand at a given time, and also saves you some office space.
We leave firms out of the ordering and the back and forth altogether. Avalon is available 24 hours a day to support the site via e-mails and phone calls.
---
3. A plan holder list is automatically generated. Whenever a contractor places an order online, they must provide an address, phone number, and e-mail before the order can be placed. The information is automatically added to a plan holders list and is available for you to review at any time. We're not trying to encourage you to be less organized, but want you to know it's an option.
Some firms and construction companies handle bid projects and all the associated administrative tasks in house but it can be very time consuming and less cost efficient. Hosting projects online can streamline the process. To take advantage of this and other outsource opportunities, contact Ashley Hazlett today.
If you liked this blog article you might want to check out Don't Give Away the House
---
Download our free case study to see why having a backup plan can save your backside.