By Christopher Puckett and Steven Epstein
Article originally published in NYSACDL's Atticus Publication
---
There is an African proverb that states, "It takes a village to raise a child." Similarly, even the most skilled attorney requires an entire defense team to successfully defend a vehicular assault or homicide case. That team must get to work as soon as possible after the accident has occurred, and the defense team should minimally include an investigator, an expert in accident reconstruction, and a forensic toxicologist.
Investigator
An investigator should get to work immediately upon the lawyer's retention on a vehicular assault or homicide case. The work that requires immediate attention includes taking statements from any witnesses, and locating any evidence that may be destroyed over time, such as surveillance camera recordings. While counsel can look to satellite imagery such as Google Earth to help locate these cameras, there is no substitute to personally observing the location where the accident occurred.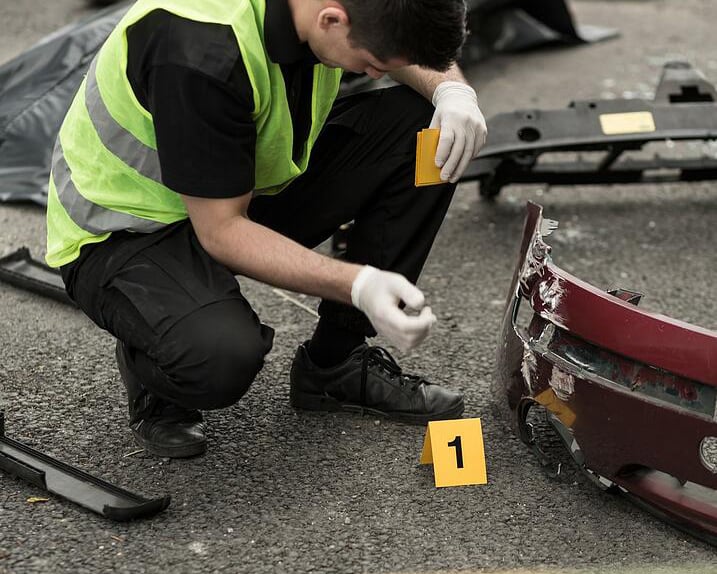 © Can Stock Photo / Bialasiewicz
Pay close attention to commercial establishments such as gas stations and banks, which often have surveillance equipment. These devices usually will record over themselves, however, so be sure to get out there quickly with a subpoena in hand. Other items that need to be preserved early in an investigation include toll footage from any bridge or tunnel lanes your client may have traveled through shortly before the accident. These, as well as red-light cameras, can be quite helpful in showing that your client's ability to drive was not impaired. Indeed, they can be used to establish average speeds for your client's driving simply by measuring time and distance travelled. Be sure to also get your client's credit card statements, cell phone records, invoices from restaurants or bars, and any other evidence the prosecutor is likely to get from their own investigation.
Motor vehicle accidents can be brutal, violent, and devastating events. Despite the forceful nature of these incidents, however, the evidence that remains can be fragile and short-lived. Since road conditions may change and evidence may be lost, it is important to get an expert in accident reconstruction retained and out to the scene as quickly as possible. Reconstructing the events that led up to the collision is far more challenging once physical evidence is removed, degraded, or destroyed. Properly collected and analyzed forensic evidence can be critical to a case and is much more difficult to dispute as compared to eyewitness accounts.
A detailed examination and analysis of the collision scene is an important first step in the reconstruction process. Following a crash, it is common for law enforcement to close the roadway to protect and process the scene. Once the investigation is complete and the roadway is re-opened, the integrity of the collision scene becomes compromised. Tire marks, fluid stains, gouge marks, vehicle debris, and other physical evidence will degrade rapidly. Even paint marks made by law enforcement with disappear over time. The location of physical evidence must be photographed, measured, documented, and preserved. Digital video should also be utilized to document the approach-direction for all involved traffic units. Physical dimensions of the roadway, condition of the pavement, friction value of the roadway surface, and environmental conditions are other factors requiring consideration. For these reasons, it is imperative to have a reconstruction expert examine the collision scene as closely as possible to the date of the crash. This will allow your expert to walk the scene of the accident and inspect tire marks, yaw marks, gouge marks or other physical evidence that ordinarily can only be viewed by examining the government's photographs they choose to take in the manner they choose to take them.
Another important step in the reconstruction process is a detailed examination and analysis of the collision-vehicle(s) themselves. An analysis of vehicle damage can provide crucial information regarding pre-impact movement, post-impact displacement, vehicle speeds, angle of impact, causation of the accident and other critical factors. Once removed from the collision scene, vehicles are taken to tow yards or police impounds. Vehicles stored at outdoor impound lots are immediately exposed to the elements. Important biological evidence—i.e. blood, tissue, and fibers—contained on the interior and exterior of these unprotected vehicles begins to degrade and in some cases is completely obliterated. Quick action is often required to avoid the total degradation and potential loss of valuable evidence.
Another critical and often overlooked piece of a thorough reconstruction is the event data recorder, or "EDR." You need to make a demand for preservation of this data immediately, because the owners of the other vehicles involved, such as trucking companies, may seek to get their vehicles released and returned to them and the data destroyed. In addition to controlling the vehicle's supplemental restraint system, the airbag control module (ACM) contains an EDR. The National Highway Traffic Safety Administration (NHTSA) requires that all manufacturers make their EDR data publicly available. An August 2006 ruling (49 CFR Part 563), NHTSA set a time table for all vehicle manufacturers to comply with the new EDR standards. The compliance date was originally set for all vehicles manufactured after September 1, 2010. NHTSA has since updated its ruling a second time (49 CFR Part 563 Update) to give vehicle manufacturers until September 1, 2014 to comply with the original ruling. Therefore, all new vehicles must make their data accessible by commercially available crash data retrieval (CDR) equipment. Bosch CDR hardware and software is used by law enforcement and the private sector to access and interpret this unbiased data from most vehicles. In certain collisions, an EDR can record up to eight seconds of pre-crash data. Some of the stored data can include: vehicle speed, throttle position, braking, seatbelt usage, steering, and other valuable information. Once collected, the data must be analyzed as part of a thorough investigation. As vital as this is, it is not intended to replace the need for a forensic analysis of a collision.
A thorough forensic analysis of data collected during a collision scene examination, information obtained during vehicle examinations, and EDR data can allow a collision reconstruction expert to offer opinions regarding causation and provide valuable guidance to attorneys throughout the legal process. Be sure to make an early request that the information be preserved and include it in your formal demands for discovery made pursuant to CPL §240.20.
Forensic Toxicologist
During the investigation of a vehicular assault or homicide a sample of your client's blood, breath, urine or saliva will be requested or compelled and tested to determine the presence and quantity of alcohol or drugs. A forensic toxicologist is essential not only to help you evaluate the quality of the forensic testing and its results, but such an expert can also be useful to help you draft discovery demands early on in your case. Criminal Procedure Law §240.20 mandates the prosecution disclose many documents with which the defense attorney may not be familiar. A forensic toxicologist can be valuable for that part of the investigation.
The stakes are high for our clients charged with a vehicular assault or homicide. The retention of an investigator, an accident reconstruction expert, and a forensic toxicologist will help to determine the strengths of your client's case. Waiting to see if the case will go trial is not an option. By then evidence will be lost or destroyed. A team must be assembled and get to work as soon as possible after the accident has occurred.