Do you prefer to spend more money than you have to? Do you like to waste time? Do you even really understand ESI collection?
If you answered "yes" to any of these questions, a managed services eDiscovery package probably isn't right for you. And we're pretty sure you lying about that last thing.
Managed services is becoming a popular approach to outsourcing eDiscovery technology and support. If you're wondering if it's right for your firm, consider the following benefits:
Predictability. There's a set monthly cost based on your firm's specific needs so you can avoid unanticipated fluctuating costs associated with ongoing eDiscovery demands.
Increase Profits. Because your eDiscovery costs are fixed, billing back these costs to the client is clear and easy, improving the profit-per-partner bottom line.
Access to the Experts. You'll have access to trained software professionals who are ready to assist you with cases involving eDiscovery whenever you need help.
Scalability. Managed services grows with your firm and with your clients needs.
The Latest and Greatest. Remember when it seemed like AOL ruled the world and that could never change? Same thing goes for eDiscovery. Your focus is on practicing law and not predicting the future and monitoring advancements in eDiscovery technology– but that is exactly the job of your managed services provider. A managed service package should always arm you with the best eDiscovery tools available.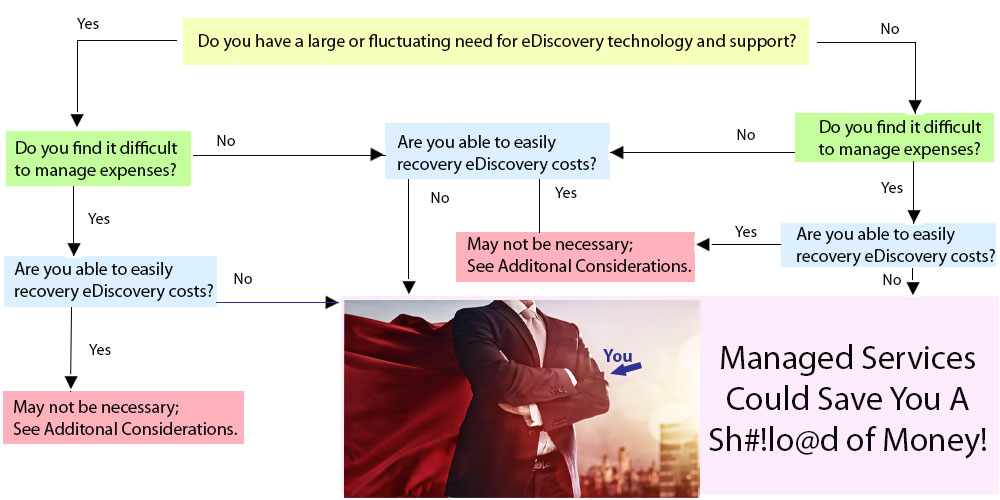 Additional Considerations
Having an in-house software installation can be more difficult than anticipated; robust hardware is necessary and its infrastructure requires 24/7 attention. If your firm is not set up for that, you may have a lot of downtime resulting in a mass of inefficiencies.
Liability- Any mistake made during the eDiscovery process will give opposing counsel the opportunity to scrutinize your process and your firm could be liable.
IT is not litigation support. Litigation support is ready for the late night reviewers who need help running searches. IT wants nothing to do with litigation technology. Managed eDiscovery is all about supporting the ongoing and unpredictable needs of litigation in a very predictable and reliable way.
If you've been thinking about implementing a managed services agreement to meet your eDiscovery needs we're here to help! Don't hesitate to pick up the phone and give us a call or shoot us an email with any questions you might have. We're here 24/7.
---
Managed Services is the hottest phrase in eDiscovery right now. Why?