Every once in a while, we like to show off one of our hardworking, detail-oriented problem solvers. Take a moment to see who's in the spotlight today!
Name: Amber Cantero
1st Day at Avalon: 08/18/2021
Current Position: Account Executive
Tell us "your story." How did you end up at Avalon?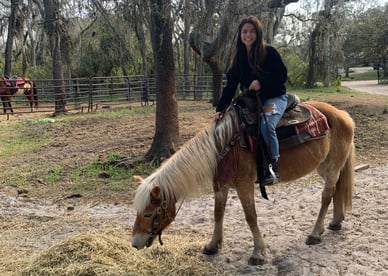 I got started in the legal support industry back in my early twenties. My colleague at the time, who is now my manager at Avalon, reeled me in! It's quite the niche industry to some, as I can still confidently say none of my family members understand what I do.
What's your favorite thing about Avalon?
It's a personable company. There are open lines of communication in person and virtually. If you have a concern or an idea, they pay attention to that. They really care about their employees and value our opinion. I think that is the foundation of building a strong team.
What's your favorite thing about your position at Avalon?
I get to meet new people every week! It's fun learning about people you normally wouldn't get an opportunity to interact with on a weekend when you are with your friends and family.
What is your proudest moment at Avalon?
I was proud to make President's Club last year! Not only meeting, but exceeding, my goal within my first year on board.
What does a typical workday look like for you?
Every day is different, but I usually try to plan for my day in advance. I like to go by our local Alessi Café and grab some goodies to take to our clients and people we haven't had a chance to work with yet. (They are a big hit!) Followed by scheduled meetings, outreaches to new prospects, and managing existing client requests.
What's your favorite workplace memory?
Having to sing "Sweet Caroline" in front of my entire team as an ice breaker, and then hearing them all jump in during the hook. It went from horrified, worst, to favorite.
What are you listening to right now (music/podcast/audio book)?
It changes with my mood, but I am currently in a major 60s phase right now with music. It makes me feel very relaxed and happy!
What's a must-read blog or book that you've read recently and why?
I just started a book called The Courage to Be Disliked by Ichiro Kishimi and Fumitake Koga. I can't give it a final review yet, but so far, so good! Great for anyone out there who has a people-pleasing personality in their personal or professional life.
What's your favorite motivational quote?
"The important thing is not being afraid to take a chance. Remember, the greatest failure is to not try." – Debbi Fields, founder of Mrs. Fields Bakeries
If you could go anywhere on vacation, where would it be and why?
I'd really like to go to Italy. I'm part Italian, so it's a side of me I'd like to learn more about from a cultural perspective. I also hear it's beautiful!
If you were stuck on an island and could only bring three things, what would they be?
Hmm. Water, knife, and matches? Not too sure on that one.
What do you do for fun?
I enjoy being outside, so anything from kayaking, riding horses, or hanging out by a pool, to browsing local markets makes me happy.