Every once in a while, we like to show off one of our hardworking, detail-oriented problem solvers. Take a moment to see who's in the spotlight today!
Name: April Ortiz
Title: Managed Office Services (MOS) Site Manager
Start date: 11/16/06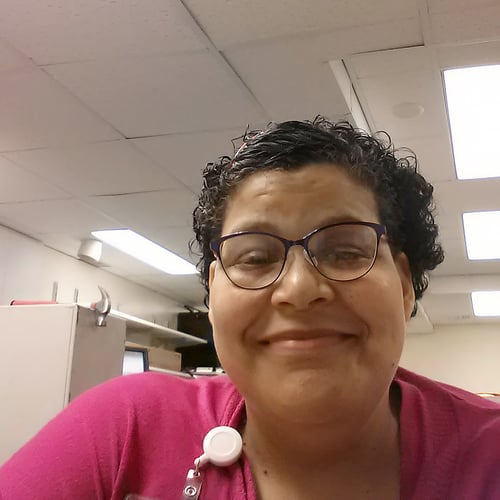 Tell us "your story." How did you end up at Avalon?
I was working in a leasing office for apartment buildings doing collections and was painfully unhappy with the job. I interviewed with Avalon with no experience in any part of the copy business and was hired to help prepare scan projects and 14 years later here I am with my tiny hammer and lots of emails. (See April's explanation of the "tiny hammer" below and the actual hammer in her photo!)
What's your favorite thing about Avalon?
The team environment and the willingness to branch out into other services or industries.
What's your favorite thing about your position at Avalon?
The freedom to figure a problem using nontraditional means. I have a tiny hammer that helps with stapled books, it sounds weird, but it works.
What is your proudest moment at Avalon?
A few years ago, there was a large scan project with a very small timeframe to get it done. We had an all-hands-on-deck situation – and it really was every hand that helped. If people were not at a scanner, they were doing other production projects to free up the teammates that knew how to scan. We had service and salespeople helping with finishing projects and directors on scanners and everyone who could help was pulling 10+ hour shifts. It was awesome.
What does a typical workday look like for you?
Come in, check my emails, help sort mail, check my emails, get print jobs running, check my emails, go to lunch, try not to check my emails while on lunch, help sort the outgoing mail, get more print projects going, or do any finishing needed on printed projects, while checking my emails. With three separate work emails, there is a lot of email checking during the day. A lot.
What's your favorite workplace memory?
There are a few and they are all when the team got together as a group to do something fun, like dinner at a nice restaurant or an actual ice cream truck just for the team.
What are you listening to right now (music/podcast/audio book)?
I am currently fascinated with the behind-the-scene stories or information on horror movies, especially ones from the late 70s and early 80s. My current favorite is Dead Meat's podcasts on YouTube. My taste in music is very, very varied – in a day my soundtrack mix will have everything from old blues songs to French pop music, there's no language barrier if the music itself is great.
What's a must-read blog or book that you've read recently and why?
I read a wide variety of genres and most of it is for simple, mindless fun, but when things get tough and I need a pick me up, I am a strong supporter of breaking out some Dr. Seuss, with or without the kids. I would strongly recommend reading "Oh, The Places You'll Go" at least once in your life.
If you could go anywhere on vacation, where would it be and why?
I would really like to visit Rome someday just for the fountains and statues. I grew up in New York City and never really appreciated the art on offer. Thankfully, I have remedied that by going on multiple museum crawls a year during the nicer months. But somewhere with so much history, literally on the streets, is somewhere I would love to spend time in with a camera. So, Rome.
If you were stuck on an island and could only bring three things, what would they be?
My Kindle (specifically my own with my library), a beach chair, and a large umbrella.
What do you do for fun?
Photography and writing that I share with no one. I like having something that is so completely mine. There isn't much else knowledge-wise I would feel good about keeping to myself, but those two are all mine, so they are fun for just for me. In a group, though I craft for fun. I am horrible at it, but still have fun doing it.