Every once in a while, we like to show off one of our hardworking, detail-oriented problem solvers. Take a moment to see who's in the spotlight today!
Name: Ashley Hammes
Title: Digital Forensic Investigator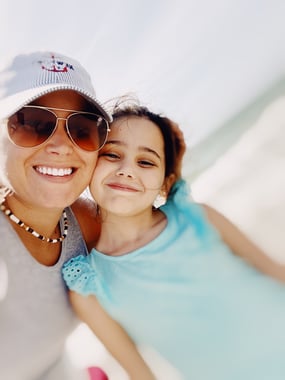 Start date: 6/17/19
---
Ashley and her little sister, Isabella.
She's my best friend. I chose this photo because she was recently diagnosed with Type 1 diabetes. Since November is Diabetes Awareness month, I thought it would be a great opportunity to bring attention to this chronic health condition.
---
Tell us "your story." How did you end up at Avalon?
I had a mutual connection with Mike McCartney, so when I needed a job, I reached out to him via LinkedIn. We had a conversation, and the rest is history.
What's your favorite thing about Avalon?
Probably the trust people have in me.
What's your favorite thing about your position at Avalon?
My favorite thing about my position is that I'm doing the thing I always dreamed I would do in college. Once I discovered the career of digital forensics, I told myself that I would do that for the rest of my life because it made me happy. It feels great to be living in what I set my heart out to do.
What is your proudest moment at Avalon?
My proudest moment is anytime I deliver excellence to clients. Whenever clients are happy with my work, I feel great.
What does a typical workday look like for you?
There is no typical workday in forensics: we could be extremely busy, or we could be very slow. Lately, we've been very busy, so I'll be doing 3+ things at one time. Sometimes my job involves pushing buttons and waiting, so while that's happening, I always take advantage of my time and get something else done.
What's your favorite workplace memory?
Any moment spent in office with Stu Babson is my favorite memory. If you've ever had the opportunity to hang with Stu, you'll know what I mean.
What are you listening to right now (music/podcast/audio book)?
I'm always listening to music when I work, on Spotify, of course. Music helps me focus. I listen to all kinds of music, but during work, I'll usually listen to any playlist with "Chill" in it. Specifically, I'll listen to Chill Pop, Chill Indie, Chill Hits. They provide the right balance of being upbeat, while not being too overwhelming.
What's a must-read blog or book that you've read recently and why?
A must-read book is definitely, "Think Like a Monk," by Jay Shetty. It's a book about overcoming negative thoughts and habits and training your mind for peace and purpose. A few years ago, I began to self-reflect and it has changed my life immensely.
What's your favorite motivational quote?
I'm not sure where the quote originated from, but somewhere along the way I heard someone say, "Just go for it, the worst thing they could say is 'No'." That has just kind of stuck with me and it's such a simple concept, which is why I love it. Too many times we question ourselves. If we should go for the things we want or not because we weigh the risks as too heavy. Instead of holding back in life, it's more fulfilling to just go for it than to not at all.
If you could go anywhere on vacation, where would it be and why?
I've always dreamed of vacationing in Greece or the Maldives. Greece is just breathtaking as far as the architecture. I am very attracted to tropical places, so I decided to move to Florida so I wouldn't feel the need to vacation as much. Now I live where people vacation; it worked out nicely. I would vacation anywhere though, I'm not biased, I'm always down for an adventure.
If you were stuck on an island and could only bring three things, what would they be?
A helicopter, a pilot, and snorkeling gear. I would love to explore the island and the water with my snorkeling gear, then after a few hours, get out of there in a helicopter with a trained pilot. (I'm more of a practical thinker.)
What do you do for fun?
My idea of fun differs on the circumstances, but I love watching football on Sundays (Go, Bills!), learning something new, being on the water, adventuring around new cities, the list goes on.