Every once in a while, we like to show off one of our hardworking, detail-oriented problem solvers. Take a moment to see who's in the spotlight today!
Name: Aye Naing
1st Day at Avalon: 03/19/2018
Current Position: Fulfillment Specialist
Tell us "your story." How did you end up at Avalon?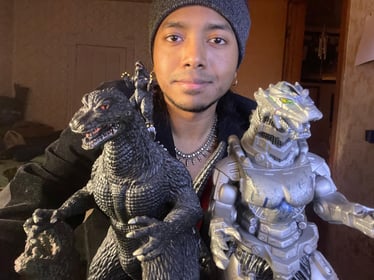 After I finished all my semesters at Bryant & Stratton College, I received an email from my Career Services counselor on 1/31/2018 about job openings at Avalon, so I applied that day and here I am.
What's your favorite thing about Avalon?
Some of the people are pretty cool. I also like that we get treats every now and then. Having a microwave to heat up my food and a sink to wash my dishes in is pretty convenient too.
What's your favorite thing about your position at Avalon?
Working closely with a team that has proper communication and can be fun to be around.
What is your proudest moment at Avalon?
My tenure here. I'm proud that I've been able to work here consistently for over 4 years and 9 months (at the time of typing this). I'm also proud to say that I never took a full week off in 2021 and 2022.
What does a typical workday look like for you?
Package confidential records of various sizes in various different envelopes, tend to machines, provide a recap of how the shift went, and assist my team with whatever they need help with.
What's your favorite workplace memory?
There are quite a few. If I had to choose only one, it might've been seeing celebrities like Ice-T and Dean Cain promote Avalon back in January 2020 during that month's Great Huddle. Receiving thoughtful gifts from coworkers (both former and current) was wonderful too.
What are you listening to right now (music/podcast/audio book)?
So many musical artists I could name. I'm a bit more of a metalhead, but my taste in music varies. Hardly ever gets repetitive. There are also a lot of YouTubers I'm subscribed to who have videos on various topics that I could watch and/or fall asleep to.
What's a must-read blog or book that you've read recently and why?
It feels like a REALLY long time since I've read a blog, let alone a book. I'm actually more of a film/TV buff. But you can check out authors like Alyssa Charpentier and Ryan George Collins. They're pretty cool.
What's your favorite motivational quote?
I have read and heard so many in my life, yet still don't really have a fave.
If you could go anywhere on vacation, where would it be and why?
So many places I could think of. To start off "small," maybe go to a comic book convention like San Diego Comic-Con or G-Fest [the largest regular gathering of Godzilla and Japanese monster fans in the world,] just to name a couple conventions I'm interested in. Going to WWE WrestleMania would be amazing too.
If you were stuck on an island and could only bring three things, what would they be?
Satellite phone, water, and a firearm.
What do you do for fun?
Watch movies, TV series, and professional wrestling; listen to music; browse the internet; workout/exercise; go out; eat out; bake; go to concerts/parties; have engaging conversations; etc. I'm open to almost anything with friends and/or family, but I won't drink alcohol, nor will I smoke anything or do any drugs.