Every once in a while, we like to show off one of our hardworking, detail-oriented problem solvers. Take a moment to see who's in the spotlight today!
Name: Christian Olson
Title: Cybersecurity Engineer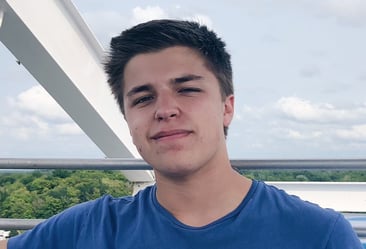 Start date: 3/1/2021
Tell us "your story." How did you end up at Avalon?
Before Avalon, I was previously working as a security analyst at a local MSP, working primarily on Blue Team projects. I was wanting to transition into primarily Red Team projects, and saw that Avalon was hiring. I interviewed and ended up receiving an offer for the position.
What's your favorite thing about Avalon?
The team and the culture. Everybody works together and relies on one another to make everything happen.
What's your favorite thing about your position at Avalon?
Being able to work remotely and be involved in different projects. One day I could be working on a penetration test, and the next helping out with an incident response investigation.
What is your proudest moment at Avalon?
My proudest moment would have to be when we were working on a penetration test, and I was able to obtain domain administrator rights late at night on the last day of the engagement.
What does a typical workday look like for you?
What I like is that there isn't exactly a "typical" workday. We could be working on an incident response project, a penetration test, or research and development on improving our service offerings.
What's your favorite workplace memory?
Visiting the Buffalo office for the first time and being able to meet the team in person.
What are you listening to right now (music/podcast/audio book)?
I don't listen to many podcasts or audio books, I typically keep SportsCenter on in the background to listen to.
What's your favorite motivational quote?
"How much do you want to bet I can throw this football over them mountains?"
If you could go anywhere on vacation, where would it be and why?
I would go to Hawaii. If I go there enough times, I might convince myself to move there.
If you were stuck on an island and could only bring three things, what would they be?
Food, water, maybe a yacht.
What do you do for fun?
I enjoy playing guitar, video games, or hanging out with friends and family.