Every once in a while, we like to show off one of our hardworking, detail-oriented problem solvers. Take a moment to see who's in the spotlight today!
Name: Dan Woodard
1st Day at Avalon: 10/10/2005
Current Position: Director of Fulfillment Operations
Tell us "your story." How did you end up at Avalon?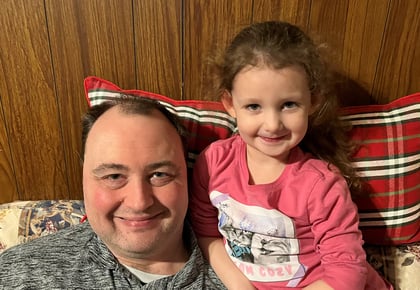 Jon Denney found my resume on Monster, I believe. He was looking for a customer service rep (CSR) for Syracuse. We did an interview and he asked me to come back for a "ride around." I spent the day riding around and following the service team and interviewing for the position. It happened to be a night when they were having a "Great Huddle." They asked if I wanted to stick around and have dinner and see what Avalon was all about. I will never forget the first day I was here from 7:00 a.m. to 7:00 p.m. and did not get paid, but I accepted the position and started the next week. I was a CSR for a while then Director of Service. After a while we discovered that service was not my passion, and it was mutually agreed that I would move to operations on 3rd shift. I stayed there for five years then moved to 1st shift. A company offered an opportunity for Avalon to take over their medical record fulfillment of printing and mailing records on paper and CD/DVD. It was a great opportunity and I still remember that day visiting that company's operation in Syracuse and decided to pursue the position of Fulfillment Production Manager. It started with me and one other team member. It was rough learning, but we have built it to what it is today and now have 10 team members and produce a ton of work.
What's your favorite thing about Avalon?
The culture. The people. Learning new things every day. It's never boring, and if it is, it's not for long.
What's your favorite thing about your position at Avalon?
Helping others by passing on my knowledge. Helping our team members and our clients. Knowing that we are serving patients and the medical community.
What is your proudest moment at Avalon?
Winning "Operations Team Member of the Year" – twice.
What does a typical workday look like for you?
Typically, I wake up before everyone else in the house. I try to enjoy the quiet moments in life. I read, meditate, and prepare myself for the day. I usually get to work around 6:00 a.m. to make sure I see the 3rd shift team and help them with anything they need before they leave. I look at the amount of work we have done over the past day and what the workload is ahead of us. It is a never-ending stream of work that we are given. There are usually 5-10 things I need to follow up on and all day there are questions to be addressed and problems to be solved. I do my best to help and package records when I am able. I like to make sure I see 2nd shift before leaving before 5:00 p.m. to have dinner with the family.
What's your favorite workplace memory?
There are so many, but most recently it was getting my own office.
What are you listening to right now (music/podcast/audio book)?
My favorite music is 80s New Wave. I listen to a lot of NPR in the car during my commute and most recently, the audio book "The 5 Languages of Appreciation in the Workplace" by Gary Chapman & Paul White.
What's a must-read blog or book that you've read recently and why?
I'm not a big reader but I watch a lot of documentaries. I think everyone should see "The Social Dilemma." https://www.thesocialdilemma.com/
What's your favorite motivational quote?
I have so many, but here are a few:
"Take a thank-you walk."
"Turn 'have to do' into 'get to do'."
"Don't do it the easy way, do it the right way."
"One person cannot make a team, but one person can break a team."
"Be the ball, Danny."
If you could go anywhere on vacation, where would it be and why?
I would love to go to Maine again and eat lobster next to the ocean every day.
If you were stuck on an island and could only bring three things, what would they be?
Other than food and water, my family.
What do you do for fun?
I like to play classic video games on NES, SNES, N64 etc. Love to go to the movies and out to restaurants. I love to cook and when the opportunity presents itself, I sometimes volunteer to run the grill and prepare food in the summer to help my mother-in-law at horse shows in Parish.