Every once in a while, we like to show off one of our hardworking, detail-oriented problem solvers. Take a moment to see who's in the spotlight today!
Name: Danielle Metro
1st Day at Avalon: 01/04/2017
Current Position: Workflow Coordinator
Tell us "your story." How did you end up at Avalon?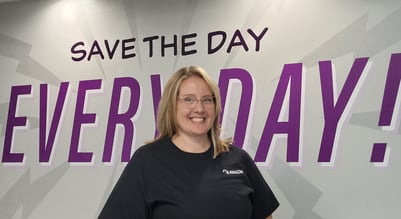 I came across a job posting for a workflow coordinator, I had no idea what this job consisted of, but I saw that one of the responsibilities was baking cookies and just wanted to see what the job was. I forgot that I applied, and a month later I received a phone call for an interview to come in. That same day, after my interview, I was offered the job!
What's your favorite thing about Avalon?
The clients and the people I work with! It is so important to establish relationships and get to know people. I have worked very hard to get to know our clients and make them feel comfortable, I take pride in this. It makes my job easier knowing that I work with people who have my back!
What's your favorite thing about your position at Avalon?
The interaction with clients and being able to problem solve for them!
What is your proudest moment at Avalon?
When I received flowers from a client, who I helped in a tough situation. I thought I was just doing my job, but to them I made their day. I am very humble, and I was completely shocked that what I did meant so much to them.
What does a typical workday look like for you?
Multitasking, to say the least! I usually start my day with a delivery on my way into work, if needed. Then I check emails, take client phone calls, and help our clients who walk in to pick up their order or need help placing an order, and write up clients' job orders. I also assist our Managing Partner daily, as well as many of our team members when they need my help with different issues. Sometimes on my way home, there may be another delivery that I will take when needed.
What's your favorite workplace memory?
There are so many, but probably my most recent memory of us moving the Buffalo office. It was quite a challenge, but it showed me how so many people can come together and make things happen. Our new office is beautiful, and I love it!
What are you listening to right now (music/podcast/audio book)?
Bible in a Year (Catholic edition). This is more of an educational thing for me, not a religious one. I'm not sure that I really understand it, but I listen to a session each day and it is so informative. There is a lot of information, but if I take away just a few things from what I'm listening to, that's okay!
What's a must-read blog or book that you've read recently and why?
I just finished reading Rich Dad Poor Dad by Robert Kiyosaki, this is an EXCELENT read, and I highly recommend it. I have learned a lot from this book.
What's your favorite motivational quote?
"If you can't fly, run.
If you can't run, walk.
If you can't walk, crawl, but by all means, keep moving."
– Dr. Martin Luther King
This quote means so much to me; it applies to so much in life.
If you could go anywhere on vacation, where would it be and why?
There are a few places on my bucket list, but mostly Italy. I would love to see where my family is from—Calabria, Italy. Plus, I hear that Italy is beautiful.
If you were stuck on an island and could only bring three things, what would they be?
That's a tough one…. I feel like I can never really answer this except for the most obvious items: a fishing net, matches, and maybe a flashlight.
What do you do for fun?
I love being with my friends, going to Bills games, Sabres games, and most importantly, I love going to my family's cabin, in Stockton, NY, to be able to get away. I am a very outdoorsy person, and I am very active in two target pistol leagues in New York State which consumes a lot of my time, both in the winter and summer.