Every once in a while, we like to show off one of our hard-working, detail-oriented problem solvers. Take a moment to see who's in the spotlight today!
Name: Eli Boltz
Title: IT Support Specialist
Start date: July 2015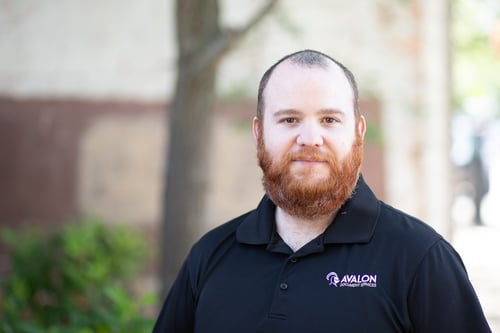 Tell us "your story." How did you end up at Avalon?
I started late in life when it comes to a degree, but I've always enjoyed the technical part of computers and networking. I initially was working for a company that provided clients with their own server, which included overseeing around 400 servers at any given time with two other employees. It was like Avalon's ticket support system, but it was in increments of 12-hour shifts. I remember looking into other jobs and applied at Avalon, as it was only a few blocks away from where I was working at the time. I don't remember much about the interview besides mentioning how adept I was at Googling for answers and surprisingly that worked, and I haven't looked back since.
What's your favorite thing about Avalon?
All the events that the culture committee has come up with. This includes spirit week, random cook-offs in the office, the corporate challenge as well as the events planned outside of work.
What's your favorite thing about your position at Avalon?
My favorite thing so far about being in IT is the ability to dabble in other parts of the company. I've dealt with our Cyber, Forensics, and Legal Tech departments, as well as the Relativity environment, so there's always something to work on.
What is your proudest moment at Avalon?
When I won the 2018 Unsung Hero Award, to say that I was surprised would be an understatement.
What does a typical workday look like for you?
I don't necessarily have a "typical" workday, but for the most part it entails working on projects while answering HelpDesk tickets that come in. I try to do a little bit of research on new developments within the IT community, but rarely do I have time for that.
What's your favorite workplace memory?
The time that Paige went on vacation and we placed a printer in front of her office door and said it was her replacement until she got back.
What are you listening to right now (music/podcast/audio book)?
I'm currently not listening to anything, but one of my sisters is trying to get me to listen to a podcast called "Myth & Legends, which is basically all about folklore through different countries and time periods.
What's a must-read blog or book that you've read recently and why?
Well outside of work reading, I don't read blogs and it has been a few years since I have sat down and read a book. The closest thing to steady reading would be National Geographic, and I'm usually mostly interested in the space-related articles. I did read a fascinating article about how black holes work. It also discussed the theoretical math that originally came up with the idea of black holes before anyone knew they were a concept.
What's your favorite motivational quote?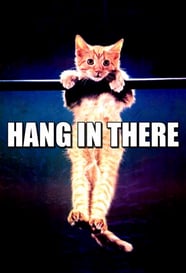 If you could go anywhere on vacation, where would it be and why?
I have always enjoyed cryptozoology, so really any country that would have an interesting story regarding an unknown creature. I would probably plan something like a world vacation and hit up everywhere that is known to have a Sasquatch, Bigfoot, Yeti, Abominable Snowman, or Wild Man story.
If you were stuck on an island and could only bring three things, what would they be?
I guess it depends on the size of the island and where it's located. I'd bring a fire starter (flint and striker), some sort of tarp or material that is re-usable so that I can make a shelter out of it, and a hatchet.
What do you do for fun?
Outside of work I'm usually either playing some sort of video game or watching a movie with friends. I've been focusing on getting back into scripting, so there are many different paths to take in that regard. I have recently scripted code to play that old snake game, in which you need to eat the food to make the snake longer, which can be played in any browser.