Every once in a while, we like to show off one of our hardworking, detail-oriented problem solvers. Take a moment to see who's in the spotlight today!
Name: Erin Hurley
Title: Print Services Estimator
Start date: 11/26/12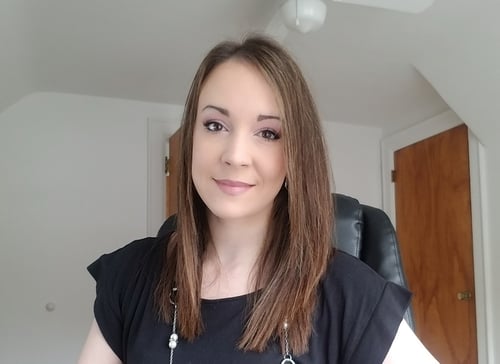 Tell us "your story." How did you end up at Avalon?
I was looking for a job and stumbled across Avalon on a job posting site. When I went in for the interview, I immediately felt as if I'd found a place where I belonged. The job turned into a career for me and the rest is history!
What's your favorite thing about Avalon?
Definitely the culture. Avalon is a unique place unlike any other company I've worked for. We take pride in what we do, and we have fun doing it. We challenge ourselves every day and continuously improve. I'm proud to be a part of this company and this team.
What's your favorite thing about your position at Avalon?
Being able to work behind the scenes on new programs that are making us better and more efficient.
What is your proudest moment at Avalon?
There have been a lot of them – but I'd say my proudest memory was the night of the most recent award I received. The speech that was given about me really made me feel like all the hard work I'd been putting in was seen and recognized. That is always a fantastic feeling!
What does a typical workday look like for you?
A typical workday for me consists of working on creating and improving upon pricing engines in Print Job Manager, the new software we are using for job management, estimating, and tracking. Along with this, I've been assisting the team with any questions they have while they're learning the new software. I manage our existing digital storefronts, as well as create new ones when needed. I also work on quoting projects for our clients.
What's your favorite workplace memory?
My favorite workplace memory is when I made my first trip to our Buffalo office last summer and got to meet teammates who I'd only spoken to through email or phone conversations. JP took everyone out for happy hour that night at the Curtiss Hotel and we had an awesome time at their revolving bar and then their rooftop bar!
What are you listening to right now (music/podcast/audio book)?
I've been on a big Tame Impala kick the past year or so. Can't get enough of them. Also, most people who know me know I'm really into a lot of older rock music. You can always find The Doors, Pink Floyd, The Beatles, Jefferson Airplane, The Grateful Dead, Janis Joplin, and much more on my playlist!
What's a must-read blog or book that you've read recently and why?
I haven't read anything recently that I'd consider a "must-read" necessarily, but some of my favorite books to read for leisure are John Grisham novels.
What's your favorite motivational quote?
"The basic difference between an ordinary man and a warrior is that a warrior takes everything as a challenge, while an ordinary man takes everything as a blessing or a curse." – Carlos Castaneda
If you could go anywhere on vacation, where would it be and why?
There are so many places I'd love to visit; it would take me all day to list them. One place that I've been looking at photos of recently is Colmar, France. It looks like a town that belongs in a fairytale. I would love to see something like that in person!
If you were stuck on an island and could only bring three things, what would they be?
This might be cheating because they aren't "things," but I'd bring my boyfriend, my son, and my cat. My boyfriend is a former Marine and I think he could keep us alive and safe for a long time. My son is super smart and knows a ton of random facts that would come in handy. My cat just needs to be there because she's adorable – and I suppose if we got desperate, she could hunt small game for us (yuck). I think we'd make it as a team. Plus, we'd have a blast!
What do you do for fun?
In my normal, day-to-day life, fun for me is spending time with my family. We can have a great time just doing regular things like eating together, going for a walk together, watching a show together. When I get the opportunity, I love to hike, especially in the Adirondack Mountains. Such a great feeling to reach the summit of a mountain and see the view!