Every once in a while, we like to show off one of our hardworking, detail-oriented problem solvers. Take a moment to see who's in the spotlight today!
Name: Gary Boden
Title: Production Manager, Cleveland
Start date: 10/17/18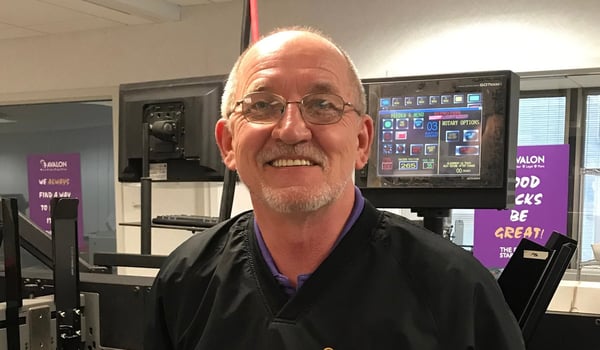 Tell us "your story." How did you end up at Avalon?
As an employee of C:Dox, I came over with the acquisition.
What's your favorite thing about Avalon?
The relaxed, even upbeat, atmosphere we maintain while both ensuring quality and accuracy, and providing exceptional service to our clients.
What's your favorite thing about your position at Avalon?
It's new to our Cleveland location! After more than 20 years as a production manager supporting the legal community, it is quite a change to be working in our new fulfilment center.
What is your proudest moment at Avalon?
Being able to adjust to holding three different positions in my short time with Avalon. Learning and training in the fulfilment field and being a part of the process of implementing Avalon's InfoCision Center into the Cleveland office from start to finish has also been exciting.
What does a typical workday look like for you?
Most days are not typical. We receive new files that are to be produced daily. On any given day, we will receive various types and sizes of projects with varying deadlines.
What are you listening to right now (music/podcast/audio book)?
Classic Vinyl (Sirius FM). The subscription came with my new vehicle and I will probably choose to continue it.
What's a must-read blog or book that you've read recently and why?
"Pass It On" is a book that provides me with spiritual inspiration. In it, one of the cofounders of AA describes carrying the message of recovery to others.
What's your favorite motivational quote?
"You never fail until you stop trying." -- Albert Einstein
If you could go anywhere on vacation, where would it be and why?
Alaska is one of six states that I have not visited yet. Driving there would provide the opportunity to visit the remaining five!
If you were stuck on an island and could only bring three things, what would they be?
Music, a friend, and a dog. I'm assuming the waters surrounding the Island would provide limitless shrimp!
What do you do for fun?
I have an absolute "HOOT" spending time with my four grandchildren. They remind me to not take life too seriously. It's a shame that we all have to grow up.