Every once in a while, we like to show off one of our hardworking, detail-oriented problem solvers. Take a moment to see who's in the spotlight today!
Name: Jamie Hylton
1st Day at Avalon: 2/5/2019
Current Position: Director of Managed Office Services
Tell us "your story." How did you end up at Avalon?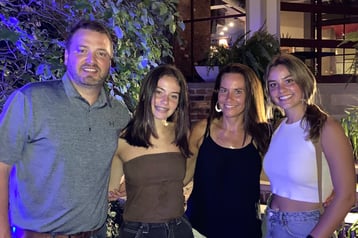 How did I end up at Avalon? I have worked with many of the Cleveland team members going back as far as 1995, working with them at various companies such as KnightRider, Ikon, and Profile Imaging. So, I have built some long-lasting personal and professional relationships over the years. An opportunity opened back in 2019 to join the Avalon team and I was excited to be able to work with a lot of the same people I worked with in the past.
What's your favorite thing about Avalon?
My favorite thing about Avalon is it's not too big/corporate and not too small/mom & pop. The size of Avalon allows me to work directly with some of the executive level personnel that I would normally not have at a larger company, and at the same time, feel I am not limited to growth and opportunity I may run into at a small local company. I also enjoy the collaboration with all aspects of the business and business lines Avalon provides. The managed office services (MOS) division allows Avalon to provide all our service levels to our clients.
What's your favorite thing about your position at Avalon?
My favorite thing about my position as Director of MOS is the ability to interact and work with all aspects of our industry and all the Avalon locations. On any given day, I can interact and work with Operations, Cyber, Sales, eDiscovery, Marketing, IT, HR, and Accounting. I am not limited to just the MOS service line because most of our MOS clients are using multiple Avalon services.
What is your proudest moment at Avalon?
My proudest moment(s) at Avalon is anytime I can make fun of Chris Haag!
What does a typical workday look like for you?
A typical workday for me at Avalon is always different and is one of the aspects I love about working here. One day, I could be onsite at a client's office working with our MOS staff and clients, improving service by implementing new SOPs or helping a client with a project that needs assistance from another Avalon service line. Another day, I could be working on a potential new MOS client, gathering information about their needs, and working with vendors and suppliers. Every day is different and challenging in its own way.
What's your favorite workplace memory?
My favorite workplace memory thus far was the entire process of securing a new MOS account in Omaha. From start to finish, it was a collaborative effort involving Sales and Operations. The new account has provided the Omaha office with an opportunity to expedite their growth in that market. In addition, it has provided me the opportunity to work with Sam and Orlando and to see firsthand what great things they are doing and will continue to do in Omaha. I look forward to the continued growth within that new account, as well as potential MOS accounts I believe we can obtain in the future.
What are you listening to right now (music/podcast/audio book)?
I listen to a variety of things throughout the day. I start out listening to morning Cleveland sports talk radio in the background to keep up with my favorite sports teams. I enjoy listening to music, mostly 70s, 80s and 90s genres. My favorite band is Pearl Jam (contrary to some who think it's Hootie – JP) and probably listen to them too much, but Eddie's voice is undeniable. Others that fill my playlist are Zeppelin, the Beatles, Dave Mathews, GNR, the Eagles, Jane's Addiction, Blues Traveler, and some country to name just a few. I am not a podcast listener, mostly because my wife listens to them all day long and loves to fill me in daily on what she listens to and learns. She's addicted!
What's a must-read blog or book that you've read recently and why?
I am not much of a pleasure reader, which is something my wife encourages me to do more, but when I do read, it is mostly to learn historical content and to research issues and political topics. I strongly feel speaking on certain topics today requires accurate and unbiased info to appropriately form an opinion or stance.
What's your favorite motivational quote?
One of my favorite quotes is "It ain't what you don't know that gets you into trouble. It's what you know for sure that just ain't so." I try to live by the mantra of not speaking ignorantly. I use this mantra in my work life as well. I never promise the client something if I don't know we can deliver it and will always seek out the advice from those who know.
If you could go anywhere on vacation, where would it be and why?
I would love to take my wife to Ireland someday and leave her there (just kidding). It is a dream of hers because of her strong Irish background and family roots. Plus, her Sullivan family still owns a small plot of land in Ireland that she would like to visit.
If you were stuck on an island and could only bring three things, what would they be?
During the pandemic, our family became fans of the tv show "Survivor." We watched every season and all episodes, some more than once. With the assumption that drinking water is assumed, the show proved the importance of fire (life) in the form of a flint, food in the form of fishing equipment, and an all-purpose tool in the form of a machete. And in the spirit of the game, I would probably be voted off early! Or at least that's what my family tells me.
What do you do for fun?
My fun currently revolves around my kids and their sports and activities. I enjoy watching them perform and enjoy their passion. I personally enjoy my local sports teams and our local amenities such as the Metroparks where we bike ride and hike, and Lake Erie for some fishing.