Every once in a while, we like to show off one of our hard-working, detail-oriented problem solvers. Take a moment to see who's in the spotlight today!
Name: Janny Mercado
Title: Production Manager, Tampa
Start date: 03/06/17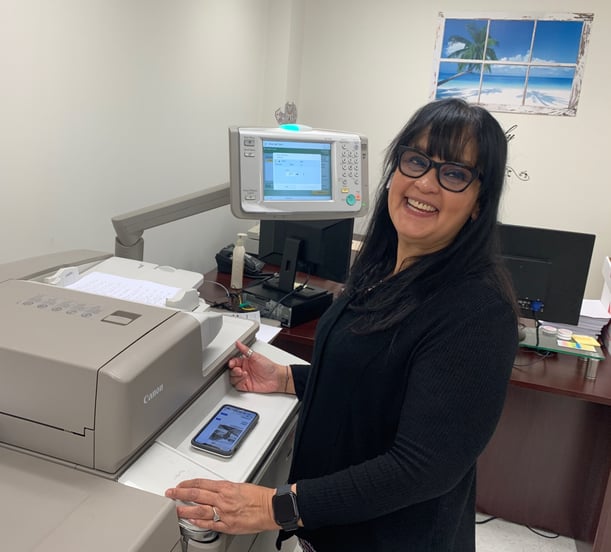 Tell us "your story" – How did you end up at Avalon?
I was job hunting for a position in this field and applied to Avalon. I then had an interview with Andrew (Tampa's Managing Partner), which was great! I knew I would fit in with this business culture. It felt like home.
What's your favorite thing about Avalon?
My favorite thing about Avalon is working in the Tampa location with my team and interacting with our clients to make sure we fulfill their requests.
What's your favorite thing about your position at Avalon?
I enjoy running the production floor and making sure everything is running smoothly.
What is your proudest moment at Avalon?
My proudest moment at Avalon was when I was promoted to Production Manager.
What does a typical workday look like for you?
A typical workday is fulfilling the request of our job tickets that we receive, such as scanning and blowbacks. (Blowback printing is the practice of printing electronic documents, such as PDFs, to paper, i.e. "blowing them back" to tangible form.)
What's your favorite workplace memory?
When I designed and organized my workspace along with the break room. It was very enjoyable and my colleagues really like the space now!
What are you listening to right now (music/podcast/audio book)?
I love listening to music of all different genres, such as freestyle, salsa, and R&B.
What's a must-read blog or book that you've read recently and why?
I enjoy reading tabloid blogs to see the latest headlines and fashion trends.
What's your favorite motivational quote?
"Work smarter not harder."
If you could go anywhere on vacation, where would it be and why?
I would like to go back to Hawaii, as it has been a while since I visited. I enjoyed going there on vacation since my family and I made great memories, the last time we went.
If you were stuck on an island and could only bring three things, what would they be?
A box of matches
Water
A hammock
What do you do for fun?
I like going to the beach, movies, shooting range, and spending time with my family.