Every once in a while, we like to show off one of our hardworking, detail-oriented problem solvers. Take a moment to see who's in the spotlight today!
Name: Jason Haag
Title: Project Manager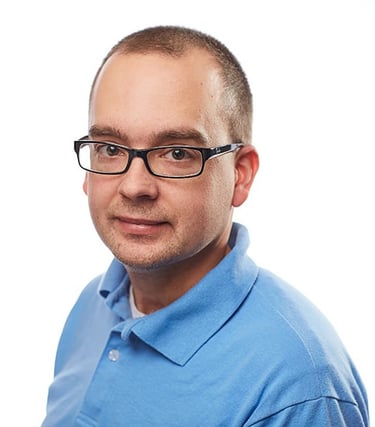 Start date: 06/05/2005
Tell us "your story." How did you end up at Avalon?
After graduating with a graphic design degree, I started looking for a job in that field, and Jon Denney [Avalon's founder] reached out to me. There were no positions open in the graphics department, but there was one in the imaging department (I didn't even know that was a thing at that point!). I figured I would take the imaging job, and then I could move over to graphics when a position opened up there. Needless to say, I never made that move.
What's your favorite thing about Avalon?
My teammates! We really have a great group of people here.
What's your favorite thing about your position at Avalon?
That I get to solve problems and learn new things every day.
What is your proudest moment at Avalon?
Getting the Team Member of the Year award.
What does a typical workday look like for you?
That is a tough one for me as they are all a bit different. Typically, my days consist of some combination of:
Client calls

Calls with other Team Members to help troubleshoot client/internal issues

Reporting and billing work

Testing/Documenting/Templating for various applications (Relativity, Message Crawler, Etc.)
What's your favorite workplace memory?
Having the Buffalo office award named after me! [It's officially called "The Frederick J. Haag Jason of all Trades Award.") JP completely had me fooled that he was naming it after another teammate, so it was a huge surprise.
What are you listening to right now (music/podcast/audio book)?
"Jason's Station" on Apple Music. Currently, playing "Mad Hatter" by Melanie Martinez, but the next song could be anything from Tool to Red Sovine.
What's a must-read blog or book that you've read recently and why?
Currently listening to (a.k.a. reading) Atomic Habits by James Clear.
What's your favorite motivational quote?
I am not a motivational quote kind of person. I am more of a sarcastic quote kind of person.
If you could go anywhere on vacation, where would it be and why?
Monaco for the Formula 1 race because I really want to go to an F1 race, and Monaco in the 60s was my favorite track to play on "Need for Speed: Porsche Unleashed."
If you were stuck on an island and could only bring three things, what would they be?
Do I need these things to survive or to thrive?
Survive:
Water filter or desalinator

Flint

Knife
Thrive:
What do you do for fun?
Race radio control cars, sim race, walk my dog.