Every once in a while, we like to show off one of our hardworking, detail-oriented problem solvers. Take a moment to see who's in the spotlight today!
Name: Joel Mitchell
Title: Document Specialist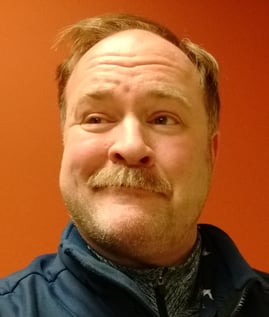 Start date: 11/03/20
Tell us "your story." How did you end up at Avalon?
I started working with Troy Richard (managing partner at our Detroit office) years ago after a connection through theatre. After several iterations of Litigation Support companies, I landed here at Avalon.
What's your favorite thing about Avalon?
I think the commitment to employees makes it an exciting team to be a part of.
What's your favorite thing about your position at Avalon?
I enjoy the variety of tasks I have on a day-in and day-out basis.
What is your proudest moment at Avalon?
I don't know if there is a singular moment, but any time we can get a tough project done under deadline is a good moment.
What does a typical workday look like for you?
Documents, documents, documents. Whether it is printing, scanning, enlarging, mounting, or moving… Documents.
What's your favorite workplace memory?
When I remember to water the plants. That takes a strong memory.
What are you listening to right now (music/podcast/audio book)?
Bonnie "Prince" Billy is probably my favorite musician right now, along with Nick Cave and the Bad Seeds, Manu Chao, Calexico, and PJ Harvey.
What's a must-read blog or book that you've read recently and why?
The latest book I really enjoyed was The Overstory by Richard Powers. It's all about trees. But mostly I read poetry: Jim Harrison, Federico Garcia Lorca, Julia Cohen, Matt Rasmussen, and Ocean Vuong, just to name a few.
What's your favorite motivational quote?
"Be melting snow. Wash yourself of yourself." ~ Rumi
If you could go anywhere on vacation, where would it be and why?
Probably back to Mexico. I had a great time traveling the Pacific Coast there and also the cities of Guadalajara and Guanajuato.
If you were stuck on an island and could only bring three things, what would they be?
A Soda Stream, a really big book, and a boat.
What do you do for fun?
I'm a stage actor and I am really looking forward to getting back on to the stage once the theatres can open safely.