Every once in a while, we like to show off one of our hardworking, detail-oriented problem solvers. Take a moment to see who's in the spotlight today!
Name: Joshua Burke
1st Day at Avalon: 09/24/2012
Current Position: Senior Legal Technology Specialist
Tell us "your story." How did you end up at Avalon?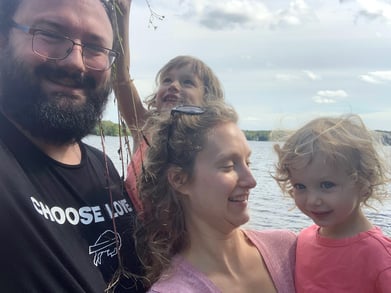 I left a healthcare software company and was unsure what type of work I wanted to do in the future. Eventually, I found Avalon and the eDiscovery industry in general. An interesting fact about my interview process was I was suffering from double vision at the time of my interview with JP, so I attended the interview while wearing an eyepatch.
What's your favorite thing about Avalon?
I love how strong the team is and how hungry everyone is to continue to grow. It is great working with people who truly care about what they do.
What's your favorite thing about your position at Avalon?
I really enjoy working with my team in Legal Tech. I love trying to think of different ways to help make us a better team or solve a pain point.
What is your proudest moment at Avalon?
I was really proud to hit my 10-year anniversary. In an age where people don't stick around with a company for very long, I've been really looking forward to the milestone.
What does a typical workday look like for you?
Every day we have a team meeting to discuss any tasks or matters of note. I am often brought in as a consulting role with PMs to figure out workflows or see if we can handle a project. I do a lot of merging data between systems and then all the reporting for the department. Additionally, I manage my team and address any concerns they bring up either individually or on our weekly team meeting.
What's your favorite workplace memory?
My favorite memory was working in the Buffalo office with Jason Haag and rolling up my chair to his desk to do an "over the shoulder QC." He has been an amazing teammate and he has become one of my closest friends over the years.
What are you listening to right now (music/podcast/audio book)?
The Midnights album by Taylor Swift
What's a must-read blog or book that you've read recently and why?
Most literature I'm reading currently is for young children. I wish I could say Harry Potter, but my daughter got bored during the first chapter. So, I'm going to say Charlie and the Chocolate Factory. I never read the book before, but I really enjoyed both movies (yes, both 😉). It's nice to consume the original book.
What's your favorite motivational quote?
"It's not who you are underneath, it's what you do that defines you." — Batman Begins
If you could go anywhere on vacation, where would it be and why?
An all-inclusive beach resort vacation. I currently have two small children and they love the beach.
If you were stuck on an island and could only bring three things, what would they be?
A firestarter, a bug net, and a machete. I love the show Naked and Afraid, and these seem like the most useful items to the survivors. The firestarter is a must since I can't start a fire by rubbing sticks together. The bug net should come in handy both for sleeping, as well as for fishing. Lastly, the machete will be needed to help build the shelter and other various tasks.
What do you do for fun?
Every night, I play Overwatch with my wife and my two brothers. Besides video games, I really enjoy board games.