Every once in a while, we like to show off one of our hardworking, detail-oriented problem solvers. Take a moment to see who's in the spotlight today!
Name: Katie Martoche
1st Day at Avalon: 09/08/2021
Current Position: Executive Assistant
Tell us "your story." How did you end up at Avalon?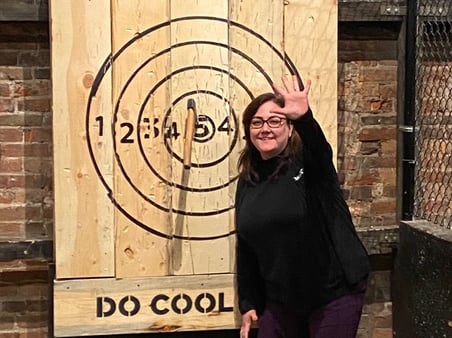 Like many people, the pandemic really forced me to take a close look at my life and to reconsider my priorities. When my previous position was eliminated, I decided to step away from my career in higher education administration. I leaned on my network, and it came through for me. Jenna Dulak (director of IT) told me about the opening at Avalon and here I am!
What's your favorite thing about Avalon?
The best thing about Avalon is the people. I get to work with kind, talented, generous, and energetic people every day!
What's your favorite thing about your position at Avalon?
My favorite thing about supporting the ELT at Avalon is that I never have the same day twice. There is always something popping up that needs my attention and always new things to learn.
What is your proudest moment at Avalon?
I don't have one specific moment that I am proudest of, but I will share that I came to Avalon after a significant career blow, and this job has helped me to regain my professional confidence. I think that is something to be proud of.
What does a typical workday look like for you?
Every day is different and that's why I enjoy it so much! My role is all about executing decisions made by the ELT. I run reports, make arrangements for travel and meetings, manage the day-to-day of the Avalon U. and MyAvalon programs, participate on Rock teams, and anything else that comes up throughout the day.
What's your favorite workplace memory?
I have lots of great memories but the most recent one is going axe throwing with the sales team. It was my first time doing it, I LOVED IT, and I'm actually pretty good at it!
What are you listening to right now (music/podcast/audio book)?
On the radio my go to is NPR and my favorite podcast is Crime Junkie.
What's a must-read blog or book that you've read recently and why?
Not recently, but a book that I think about often is "The Five People You Meet in Heaven" by Mitch Albom. It is one of those stories that makes you realize how each interaction you have in life impacts your journey. It is a short, sweet, and magical story.
What's your favorite motivational quote?
"Do the best you can until you know better. Then, when you know better, do better." – Maya Angelou. A mentor of mine gave me this advice when I took on a challenging role at a previous organization. I have it framed in my office and look at it often for inspiration.
If you could go anywhere on vacation, where would it be and why?
Ireland! I had the privilege of traveling throughout Ireland and Northern Ireland when I was in college, and I would love to live there someday. I have family in Belfast who I only get to see every few years, so taking a vacation to see them is always at the top of my list!
If you were stuck on an island and could only bring three things, what would they be?
A book, sunscreen, and a bottomless glass of ice water!
What do you do for fun?
I have two boys (13 and 10) and am very involved in their schools; I am the treasurer and yearbook coordinator of our elementary school PTSA and the parent coordinator for the middle school musical. I enjoy cheering them on from the sidelines at their baseball, volleyball, and flag football games too. I am lucky to have close friends from all stages of my life (childhood, college/grad school, work, mom-friends) and try to catch up with them as often as I can.