Every once in a while, we like to show off one of our hard-working, detail-oriented problem solvers. Take a moment to see who's in the spotlight today!
Name: Kevin Santos
Title: Production Manager, Cleveland
Start date: 12/02/19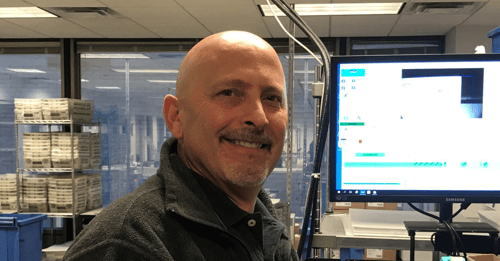 Tell us "your story." How did you end up at Avalon?
After spending 12 years with InfoCision, they decided to exit their print and mail division and entered a joint venture with Avalon. I was asked by Avalon to join an amazing team in Cleveland.
What's your favorite thing about Avalon?
I came from a company that was in steady decline for the print and mail portion of their business with really no desire to grow it. I am truly excited that Avalon seems to be in continual growth mode.
What's your favorite thing about your position at Avalon?
The great people I work with, like Gary, Navy, Jim, Bob, Marty, and Chris. They all have great attitudes and dedication to the company.
What is your proudest moment at Avalon?
We had a great February hitting over 170,000 pieces printed and mailed!
What does a typical workday look like for you?
Up at 4 a.m., here by 6 a.m., check and respond to any emails, clean up any rollover work from the previous day, and then proceed with the daily files and special projects. I usually finish between 2:30 and 4:00 p.m.
What's your favorite workplace memory?
I was Employee of the Quarter twice and inducted into the InfoCision Hall of Fame.
What's a must-read blog or book that you've read recently and why?
The Shack by William P. Young. It makes you look at things from a different perspective.
What's your favorite motivational quote?
If a door closes, open a window! [We love Kevin's take on the popular version of this quote, "When one door closes, a window opens," since he's taking control of the situation himself!]
If you could go anywhere on vacation, where would it be and why?
Turks and Caicos looks amazing and I love beautiful beaches.
If you were stuck on an island and could only bring three things, what would they be?
Knife, a pan, and a good Cabernet!
What do you do for fun?
Listen to live music just about anywhere
Coached four daughters in fast pitch softball over 12 years
Vacation to new places
Golf, fishing, cooking on the grill, trying new foods
Anything that has to do with water, skiing, swimming, tubbing, pontoon, sailing
Watching college football. I bleed Scarlet & Gray... Go Bucks!!!!!!