Every once in a while, we like to show off one of our hardworking, detail-oriented problem solvers. Take a moment to see who's in the spotlight today!
Name: Matt Runyon
Title: Senior Account Executive, Legal/Cyber
Start date: 06/01/11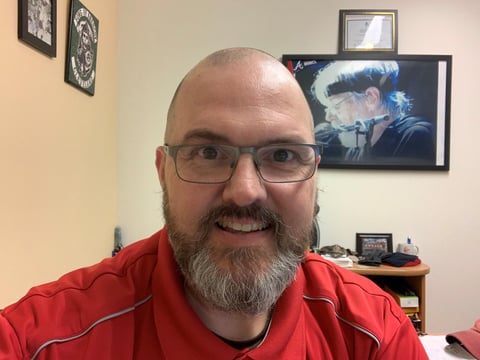 Tell us "your story." How did you end up at Avalon?
I came over to Avalon as part of the Profile Discovery merger. I have been in the litigation support arena since October 1990. Sporting a mullet straight out of college as a Customer Service Representative, I picked up and delivered boxes all over the greater Cleveland area.
What's your favorite thing about Avalon?
I absolutely love all our Team Members and just how much fun we have while still kicking ass every single day. I was brought up in this industry with the motto of "Work hard – play harder." Although I've slowed down quite a bit on the play harder aspect in my older age, it still gets the blood flowing when that "Impossible Project" comes through the door and EVERYBODY jumps in and makes that "Impossible" happen.
What's your favorite thing about your position at Avalon?
One thing is how many true friends I have made over the years. Some started out as clients and others as coworkers. I also love being out and about and being a problem solver. My goal has always been that anyone who needs something done, whether they are a client of mine or not, does not even need to think about it. They know that they can just call me, and I will get it done. Or, at the very least, I can point them in the right direction to get it done.
What is your proudest moment at Avalon?
I have had a few, but I think the proudest was when we were brought in to help bring the Republican National Convention to Cleveland a few years ago. We were awarded the opportunity to print and assemble all the binders during the bidding process that had to get to Washington. There were so many pieces that had to fall in place. We were waiting for different groups to get us their information to go in the binders. Groups like the mayor's office, Dan Gilbert and the Cavaliers, Destination Cleveland, the Cleveland Browns, and others. I ended up driving the boxes to the airport to FedEx and getting there at 9:55 p.m. with a 10:00 p.m. deadline.
What does a typical workday look like for you?
Up at 5:45 a.m. to run two to three miles (recently lost a ton of weight), then into the office anywhere between 7:30 and 8:30, depending on what's on the schedule for that day. Another thing I love is that every day is different. I generally try to talk/see as many folks as possible. Seeing people face to face has been quite the challenge with COVID-19, but we just have to make the most of it. I always try to live by the M.I.H. motto ("Make It Happen"), whatever that may be for the day. Adapt-Improvise-Overcome!
What's your favorite workplace memory?
During my time here at Avalon, I would have to go right back to winning the RNC bid and ABSOLUTELY "Saving the Day" on getting those binders out. It truly was a miracle that we met the deadline on that one, but it's because everyone at the office played a part. Then, receiving a call from the attorney, who headed the project, who asked me to meet him at a local establishment. Turns out that this was a celebration get-together with all the bigwigs in town and hearing the mayor of Cleveland asking, "Where's the guy who delivered on all those binders?"
What are you listening to right now (music/podcast/audio book)?
This one is the easiest question of them all. Bob Seger & the Silver Bullet Band. I listened to Seger yesterday, I listened today, and I surely will tomorrow as well. LOL. I will mix in some "Big Hair" band music as well.
What's a must-read blog or book that you've read recently and why?
Drive: The Story of My Life by Larry Bird

I became a huge fan of Larry Bird from the 1979 college championship game and followed him through his entire career. The book tells his life story and the fact that he was not the most gifted athlete physically, but he sure did make up for it (and then some) mentally. He worked at his basketball skills for hours on end to be the best he could be. What I think I loved the most about him is that he could mentally annihilate opponents just as easily. He was a true student of the game.
What's your favorite motivational quote?
"You can't win until you're not afraid to lose." – "Just Older" by Bon Jovi
If you could go anywhere on vacation, where would it be and why?
I like to think that I am a simpleton when it comes to things like this and I've been pretty much everywhere I've ever really wanted to go. With that being said, I guess I'd have to say Paris because that's on my wife's bucket list of places to visit.
What do you do for fun?
I love to visit as many horserace tracks as possible. I grew up around horseracing and every year, a group of us visit a different track. I loved watching my two girls grow up playing their respective sports and now it's going to be my two grandchildren's turn. My wife (Jen) and I love spoiling the heck out of them. We're definitely the coolest Grammy and Pappy around. I love hanging out with family and friends and just having a great time.