Every once in a while, we like to show off one of our hardworking, detail-oriented problem solvers. Take a moment to see who's in the spotlight today!
Name: Nicole Szarafin
1st Day at Avalon: 11/29/2021
Current Position: Cyber Service Delivery Manager
Tell us "your story." How did you end up at Avalon?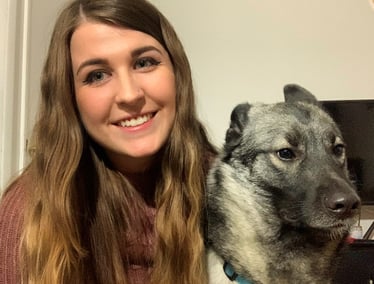 I came to Avalon from the teaching field. I wanted to find a company that was welcoming and had a good atmosphere! I wanted to challenge myself to try something new and I love what I do now!
What's your favorite thing about Avalon?
The people! I have never met a group of individuals so welcoming. This company has shown me that people can be kind, encouraging, and supportive!
What's your favorite thing about your position at Avalon?
The ability to work alongside a truly amazing team and getting to learn new things each and every single day. It never feels like work when you love what you do!
What is your proudest moment at Avalon?
Being recognized at a Town Hall meeting! It was so cool to be able to hear the kind words of our executive team!
What does a typical workday look like for you?
Interacting with our clients, whether that be via email or on a call. I really enjoy being able to maintain great relationships with our clients, and to work alongside such a great team! I also will handle a lot of our admin work in NetSuite, Excel, and SharePoint day to day.
What's your favorite workplace memory?
My favorite work memory was Brandy's last day here at Avalon. I was very new and had just stepped into my role here at Avalon Cyber as an interim CSDM. I was nervous about meeting everyone and the challenge I was about to face in having such big shoes to fill, but the cyber team was so welcoming and encouraging. We had a call at the end of the day to send her off to her new job with a goodbye "party" that she deserved. Never have I felt so instantly welcomed by a group of people. I am thankful for that experience every day.
What are you listening to right now (music/podcast/audio book)?
Not much as of right now!
What's a must-read blog or book that you've read recently and why?
For books, A Song of Ice and Fire. I am a huge Game of Thrones fan and I finally got a chance to read some of his work outside of watching both of his TV series, Game of Thrones and House of the Dragon. Highly recommend!
What's your favorite motivational quote?
I love this question. My favorite quote is something I say often to the people around me when they are feeling stuck and have some cheerin' up to do:
"Love the life you live. Live the life you love" – Bob Marley :)
If you could go anywhere on vacation, where would it be and why?
Hawaii has always been on the top of my bucket list to visit!
If you were stuck on an island and could only bring three things, what would they be?
A pot to boil water, a Satellite phone, and a knife for food!
What do you do for fun?
I love thrifting and spending time with my friends and fam!