Every once in a while, we like to show off one of our hard-working, detail-oriented problem solvers. Take a moment to see who's in the spotlight today!
Name: Orlando Pineda
Title: Director of Operations, Omaha
Start date: 6/24/19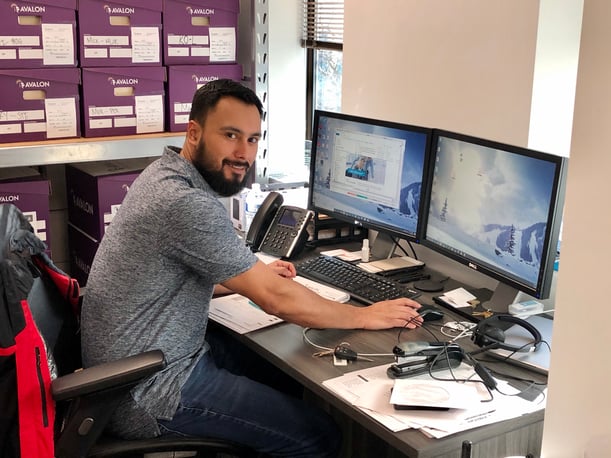 What's your favorite thing about Avalon?
My favorite thing about Avalon is the people and everyone's dedication to being the best.
What's your favorite thing about your position at Avalon?
Helping my team members meet deadlines that sometimes seem impossible to achieve.
What is your proudest moment at Avalon?
I would have to say being able to help open Avalon's Omaha office.
What does a typical workday look like for you?
Most days I am invoicing or entering orders into NetSuite, answering client emails or phone calls, and delivering and picking up projects.
What's your favorite workplace memory?
I enjoy receiving emails from our clients after completing a project thanking us for the quality of work and quick turnaround.
What are you listening to right now (music/podcast/audio book)?
I'm currently listening to an audio book. "The Dark Bones" by Loreth Anne White.
What's a must-read blog or book that you've read recently and why?
A book I finished reading a few months ago is "Beneath a Scarlet Sky" by Mark Sullivan. It's based on the true story of Pino Lella, a young, Italian boy who helps Jews escape Italy during World War II. It's an inspiring story worth reading.
What's your favorite motivational quote?
"It's better to have a short life that is full of what you like doing, than a long life spent in a miserable way." – Alan Watts
If you could go anywhere on vacation, where would it be and why?
Maui, Hawaii. Breathtaking views and beautiful beaches.
If you were stuck on an island and could only bring three things, what would they be?
A lighter to start a fire, a camping tent to protect me from the elements, and a hunting knife.
What do you do for fun?
I enjoy going to the gym, and love traveling and spending time with my family making memories.