Every once in a while, we like to show off one of our hardworking, detail-oriented problem solvers. Take a moment to see who's in the spotlight today!
Name: Paul Kasarda
Title: Fulfillment Specialist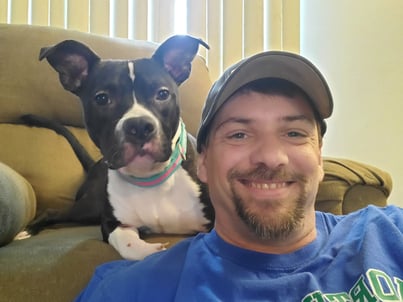 Start date: 5/24/2005
Tell us "your story." How did you end up at Avalon?
My sister had recently been laid off and needed to post her resume online. I showed her by posting mine and that's when Jon Denny called me in. That was over 15 years ago...wow.
What's your favorite thing about Avalon?
The teamwork.
What's your favorite thing about your position at Avalon?
Knowing I could make a difference in people's lives by providing their medical records. It could be anything from a judicial order to just a doctor's request. This information could make a big difference in someone's life.
What is your proudest moment at Avalon?
I would have to say working on a big project that involved some pretty heavy indexing for almost 24 hours straight. I had already worked my 8-hour shift and went home to grab something to eat. We had a fairly tight deadline, so I came back that evening and worked throughout the night until the following morning. Needless to say...we did hit the deadline. Which is what it's all about.
What does a typical workday look like for you?
Mostly retrieving medical records files from the client, renaming them per the request and burning them to CD/DVDs and shipping them out. After that, its packaging and shipping the CD/DVDs that are automated. When that's done I move over to package paper.
What's your favorite workplace memory?
It may seem weird, but it has to be the time when Daryl (former production manager) had "slam dunked" something into a garbage can that was filled with punches. The confetti explosion that shot out of that garbage can was epic and still makes me laugh thinking about it.
What are you listening to right now (music/podcast/audio book)?
A Perfect Circle. Specifically Eat the Elephant...amazing album.
What's a must-read blog or book that you've read recently and why?
Not into books too much but I do suggest reading "Gung Ho!" by Ken Blanchard and Sheldon Bowles. If fiction is more up your alley, I would say "The Bad Place" by Dean Koontz.
What's your favorite motivational quote?
Silly but... "Just keep swimming." – Dory
If you could go anywhere on vacation, where would it be and why?
Would love to go back to Jamaica. The carefree spirt and friendliness of that island is infectious.
If you were stuck on an island and could only bring three things, what would they be?
Multi-tool, bow, and water filter.
What do you do for fun?
I've always been a video gamer at heart...yes, even at my age. Lol.