Every once in a while, we like to show off one of our hardworking, detail-oriented problem solvers. Take a moment to see who's in the spotlight today!
Name: Ryan Lemieux
Title: Information Security Analyst, Avalon Cyber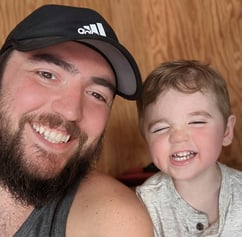 Start date: 02/27/2017
Tell us "your story." How did you end up at Avalon?
In the summer of 2016, I was interning at Integer (formerly Greatbatch Medical) when I was introduced to Kyle Cavalieri. He and my boss at the time, Jim Studley, were great friends and I was able to work with Kyle on a few occasions. That September, Kyle reached out to me about a possible job opening with IT at Avalon. Ultimately this didn't pan out, but Kyle was enthusiastic about me and was able to create an entry level Evidence Coordinator position within Avalon. He thought of me for this position, I interviewed for it, and I was offered the job.
What's your favorite thing about Avalon?
The people! From the top down, everyone is easy to get along with and is genuinely fun to be around.
What's your favorite thing about your position at Avalon?
The unpredictability. One day you could be working an incident response case about ransomware and the next could be about a business email compromise. It always keeps you on your toes.
What is your proudest moment at Avalon?
My proudest moment must have been when we were working an incident response investigation about ransomware and we were able to track down our client's data on the Dark Web.
What does a typical workday look like for you?
A typical workday usually entails different tasks: scanning, report writing, etc. for vulnerability assessments; ticket resolution for our managed detection and response customers; and general knowledge activities on the latest cyber trends.
What's your favorite workplace memory?
Walking in downtown Buffalo during the summer.
What are you listening to right now (music/podcast/audio book)?
I'm always looking for new music on the U.S. Top 50 playlist, and my favorite podcast is a morning show called Tucker and Maura.
What's a must-watch show you've seen recently and why?
The Defiant Ones. This documentary was just a really fun watch detailing the stories of Jimmy Iovine and Dr. Dre.
What's your favorite motivational quote?
Don't have one. I'm not really a motivational person.
If you could go anywhere on vacation, where would it be and why?
Italy. It boils down to two things: food and architecture.
If you were stuck on an island and could only bring three things, what would they be?
An axe
Physicians' Desk Reference hollowed out, inside: waterproof matches, iodine tablets, beet seeds, protein bars, and NASA blanket
In case I get bored: Harry Potter and the Sorcerer's Stone
What do you do for fun?
I love playing basketball, watching movies, and enjoying family.