Every once in a while, we like to show off one of our hardworking, detail-oriented problem solvers. Take a moment to see who's in the spotlight today!
Name: Sam DelSenno
1st Day at Avalon: 06/11/2019
Current Position: Managing Partner, Omaha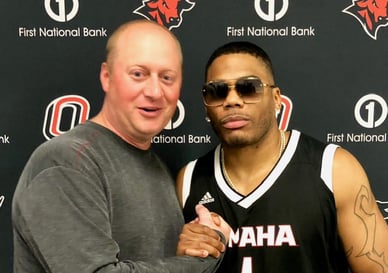 What's your favorite thing about Avalon?
The people. I actually love working with most of the people at Avalon. I have to give props to my core local leadership team of Orlando Pineda and Justin Hoden. These guys really are a big part of the reason I come to work every day because I have such a history, respect, and love for them.
What's your favorite thing about your position at Avalon?
I love helping clients with their challenges. They have a lot of issues, and we have a lot of solutions. I like being in the middle of that.
What is your proudest moment at Avalon?
I was proudest when my guy, Orlando Pineda, won the Avalon companywide award AND the MOS Koley Jessen law firm companywide award for his impact there, both in the same year. Incredible, but not surprising.
What does a typical workday look like for you?
Five-mile run, coffee, check my email (specifically my Proofpoint Essentials daily email), put out any fires, make sales calls, make more sales calls, another five-mile run, lunch, and then a short ten-minute powernap. My afternoon is typically left open to update HubSpot and help with scanning and copying out on the production floor.
What's your favorite workplace memory?
The time a client gave me instructions on her scan project and specifically noted that she wanted everything to be scanned single sided. It was precious.
What are you listening to right now (music/podcast/audio book)?
Podcasts: Jim Rome, This Past Weekend w/ Theo Von, Full Send w/ the Nelk Boys, The Shawn Ryan Show, and Joe Rogan to name a few.
Music: Lil Wayne, Gregory Alan Isakov, Nickelback, Morgan Wallen, Jay-Z, and Lee Greenwood.
What's a must-read blog or book that you've read recently and why?
Honestly, I don't read much.
What's your favorite motivational quote?
"Comparison is the thief of joy." – Theodore Roosevelt
If you could go anywhere on vacation, where would it be and why?
I think I would like to go to Greece because I saw some cool pictures of it and Kyle Cavalieri told me it's fresh.
What is a fun fact about you?
I used to ride a trick BMX bike, X-games mode, up until I was 30 years old.

I've been to Afghanistan 25+ times helping rebuild their country back in the early 2000s.

I've been to four (4) Nickelback concerts.
If you were stuck on an island and could only bring three things, what would they be?
Probably my girlfriend, my cell phone, and a charger for the cell phone.
What do you like doing for fun?
Hanging out with my friends

Visiting the Henry Doorly Zoo here in Omaha (The largest zoo in the world – look it up) [

Editor's note:

While I'm still not completely convinced, Sam, based on acreage (130 acres) AND the number of species (17,000+ animals and 960+ species), as well as the fact that it's a private zoo, this may be correct. 😊]
Watching sports, especially live
Attending concerts, also especially live
Golfing
Long walks in the Nebraska cornfields with my beautiful girlfriend
And of course, working at Avalon!