Every once in a while, we like to show off one of our hardworking, detail-oriented problem solvers. Take a moment to see who's in the spotlight today!
Name: Simon Luchano
Title: Document Specialist
Start date: 05/02/02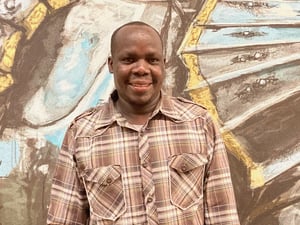 Tell us "your story." How did you end up at Avalon?
I came over with my boss from DocuLegal when Avalon acquired that company.
What's your favorite thing about Avalon?
The people and their integrity and honesty.
What's your favorite thing about your position at Avalon?
Learning new things every day.
What is your proudest moment at Avalon?
Every day!
What does a typical workday look like for you?
Fun – and I love it!
What's your favorite workplace memory?
Running away one time when the alarm went off.
What are you listening to right now (music/podcast/audio book)?
Ladysmith Black Mambazo (a South African male choral group).
What's a must-read blog or book that you've read recently and why?
I enjoy John Grisham novels.
What's your favorite motivational quote?
"Great minds discuss ideas. Average minds discuss events. Small minds discuss people." – Eleanor Roosevelt
If you could go anywhere on vacation, where would it be and why?
Definitely East Africa for a safari.
If you were stuck on an island and could only bring three things, what would they be?
Precious stone, a pet lion, and my life.
What do you do for fun?
Watch soccer and listen to reggae music.