Every once in a while, we like to show off one of our hardworking, detail-oriented problem solvers. Take a moment to see who's in the spotlight today!
Name: Tom Evans
1st Day at Avalon: 06/18/2018
Current Position: Managed Office Services Specialist
Tell us "your story." How did you end up at Avalon?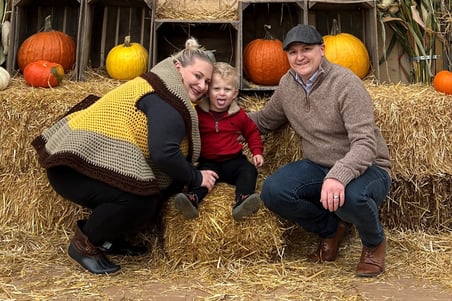 Well, I had been working in the office services field for about ten years with various companies. I was working with Canon Business Services on some projects, but nothing permanent. Long story short, Rachel Loebsack, Dave Paulick, and I met in a bar in Cleveland to talk about a position at Avalon. About a year later, I was job hunting and saw a posting for a position with Avalon. I was contacted right away by Rachel and began working here in 2018.
What's your favorite thing about Avalon?
Everyone who works for Avalon is very laid back and fun. Although I oversee the copy center for one of our Cleveland clients – Bonezzi Switzer – I do have a fun time here too. The managers I work with at Avalon have done an amazing job training me and the tools I've learned to use allow me to strive for success every day.
What's your favorite thing about your position at Avalon?
Making people happy on projects that I do for them. Being a part of the managed office services (MOS) team has been the most rewarding job I've ever done. Like I said, the people working for Avalon have no problem helping in any way they can. If it wasn't for Gary Boden, I probably wouldn't be in the position I am today – and that is just to name one person. There've been so many more.
What is your proudest moment at Avalon?
Getting an opportunity to manage the copy center at Bonezzi Switzer. The people love what I am doing here, and it makes me happy that they are comfortable with me. This site can be very challenging, but I try my best to keep my head down and get the job done.
What does a typical workday look like for you?
I work onsite at Bonezzi Switzer in Cleveland. I come in to check my emails for all jobs that were sent overnight to the copy center. Scan or bind any jobs that are dropped off at the copy center or the firm's designated stations around the office. Prepare postage for pre-paid envelopes or tapes as directed/needed. Prepare all outgoing mail and maintain the postage machine. Input disbursements into the firms Copitrak system. Burn any CDs/DVDs and enter information onto a spreadsheet, which is submitted to billing once a month. Submit a monthly spreadsheet to my manager to record all the jobs that come into the copy center. Handle any requests for supplies and order office/kitchen supplies once a week. Place service or orders supplies for the copy center machines. Really anything and everything you can think of for office services, but it keeps me on my toes!
What's your favorite workplace memory?
When I was trying to start a business. In 2009, I worked as a mailroom clerk for an insurance company. On weekends I would go to a lot of concerts and events, and someone told me: "Hey, you should book concerts." I had NO idea what to do and where to start. So, I would go to concerts and talk to bands and managers to get networked in. One thing led to another, and I started talking to this artist from North Carolina who I linked up with and we booked a small tour for him, and got to go NYC, Detroit, Cleveland, Atlanta, and South Carolina, as well as a festival in North Carolina. After that, I almost got an opportunity to go on tour with an upcoming artist at the time named Rachel Platten. After I moved back to Cleveland from Atlanta, I decided to quit all that, but I still have some cool people I talk to who are in the music business.
What are you listening to right now (music/podcast/audio book)?
Mostly classic rock and sports talk shows. As for podcasts, I listen to two by Bailey Sarian about murder and mystery.
What's a must-read blog or book that you've read recently and why?
I don't really read anything, but I did listen to an audio book called Tuesdays with Morrie. I read it in high school and wanted to listen to it again. I loved the story about this man named Morrie. No matter what happened in his life, he inspired everyone he met. A true story and a great book to read.
What's your favorite motivational quote?
"Love each other or perish." Simple and to the point. It's from the book, Tuesdays with Morrie. [Based on a poem by W. H. Auden.] Basically, it means learn how to give out love and to let it come in. Without love, we are birds with broken wings. Love is how you stay alive, even after you are gone. I have this quote with a Welsh/Irish knot tattooed on the inside of my arm.
If you could go anywhere on vacation, where would it be and why?
This is probably a silly answer, but I love landmarks and history, so Philly for the cheese steaks and the Rocky statue, Chicago for Wrigley Field, and a random history landmark on Normandy Beach in France.
If you were stuck on an island and could only bring three things, what would they be?
A fishing net to catch food, a box of matches to keep warm and cook the food, and a hammock so you're not on the ground getting bitten by bugs and occasionally for shade.
What do you do for fun?
My wife and I have a two-year-old, so that's fun enough! We also have a five-year-old beagle named Luke Duke. We go out to the park, the zoo, and try to go to sporting events occasionally. I am a huge Cleveland and Ohio State sports fan, so I like to watch any of the sports teams.