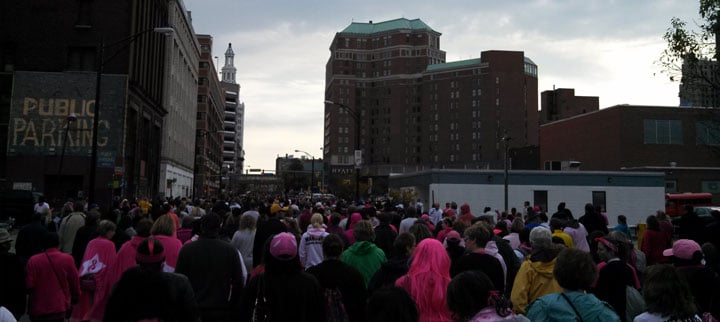 Perhaps nothing in history has ever screamed breast cancer awareness louder than the sea of pink that flooded the streets of downtown Buffalo on October 19th . Proudly, many Avalon team members were among the 10,000 participants who took part in largest network of breast cancer awareness in the nation, the American Cancer Society's annual Making Strides Against Breast Cancer Walk. Together, these participants raised an impressive $600,000 this year alone to fund and support breast cancer research and the services offered to cancer patients by the American Cancer Society.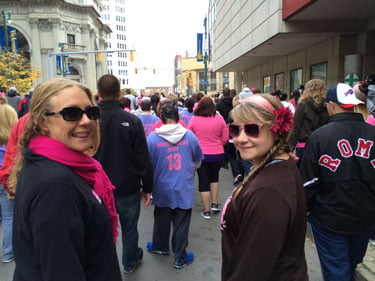 Liz Midgley and Hilary Palombo participate in the event
The Power of Pink
A breast cancer survivor by the name of Margery Gould Rath was the visionary behind the event. She wanted to find a way to celebrate survivorship and honor those battling, while raising funds for the American Cancer Society at the same time. In 1984, Rath and fellow survivors created an event known as the "move-along-a-thon" called Makings Strides Against Cancer, which did exactly that. In 1993, the event officially became known as the Making Strides Against Breast Cancer Walk and since has inspired 8 million walkers raising more than $460 million to fight breast cancer with research, information and services, and access to mammograms for women who need them.
"I have been a proud participant in this event for the past five years. For anyone who has participated before, you know how incredible and inspiring it is," says Ashley Koch, Marketing Manager for Avalon. "My life has been touched by breast cancer more than once. Seeing the survivors, fighters and supporters fill the streets of Buffalo every year, I know that I am not alone in the fight to end breast cancer once and for all."