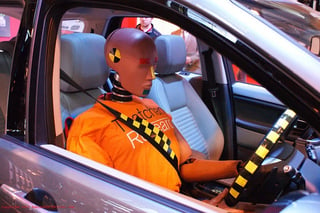 In the 1980s, the Crash Test Dummies began appearing in public services announcements from the U.S. Department of Transportation. They taught us a lot about seatbelts, but not about what happened behind the scenes during a car accident, which is made possible by black boxes. Probably because that would've made for boring commercials.
We've all heard of black boxes with respect to airplanes, but they also exist in motor vehicles.
What is the "black box" in a motor vehicle?
The term "black box" is simply another name for an airbag control module (ACM) in passenger cars and light trucks. Unlike an aircraft black box, which continuously records flight control systems and even sound, an ACM is far less sophisticated and has a much shorter recording loop. An event data recorder (EDR) is located within the ACM and records data from multiple sensors throughout the vehicle. In the event of a collision, the EDR captures a specified amount of pre-crash data, which can be extremely valuable to a crash investigation.
How does a black box work?
The primary function of the ACM is to monitor and deploy the supplemental restraint system (airbags and seatbelt pretensioners) in motor vehicles. The secondary function, if the module is equipped with an EDR, is to provide collision-related data. During the infancy of supplemental restraints, EDRs were used by manufacturers to evaluate the effectiveness of their vehicle safety systems. Chevrolet and Ford were at the forefront of a movement to make this crash data available to law enforcement and private consultants.
Most EDRs operate on a continuous loop, which constantly overwrites itself as the vehicle is being driven. During a collision, the ACM senses a sudden change in vehicle speed and essentially wakes up. The EDR then captures a specified amount of pre-crash data and stores it internally. Absent a crash or other significant event, the EDR is not capturing or storing any vehicle data relative to operation.
Generally speaking, an EDR is capable of capturing two types of events:
Deployment level events. A deployment level event occurs when the ACM determines that a crash is severe and that supplemental restraints are required to protect the vehicle occupants. Once captured by the EDR, these events are permanent and will not be overwritten.
Non-deployment level events. A non-deployment level event occurs when the ACM determines a crash is not serious and seatbelts will suffice. Supplemental restraints are not deployed. Once captured by the EDR, these events are not permanent and can be overwritten.
Stored events are recovered utilizing Bosch Crash Data Retrieval (CDR) hardware and software, which should be used by forensic professionals. The CDR equipment can either be connected to the vehicle's diagnostic port or directly to the ACM. The recovered data can then be imaged or copied (not downloaded) for further analysis. The data stored within the module remain and are unaltered.
What data must be captured?
As more manufactures began to make their data available, the National Highway Traffic Safety Administration (NHTSA) sponsored a working group tasked with studying EDRs. Following years of study and evaluation, NHTSA released a formal Notice of Proposed Rulemaking, which declared NHTSA's intent to standardize EDRs.
In August 2006, NHTSA released its final ruling (49 CFR Part 563), which consisted of a timeline for manufacturer compliance and the mandatory number of data points that must be reported. There was already an overwhelming trend for voluntary EDR installation, so the ruling did not require manufacturers to install EDRs in vehicles produced for North America. Based on its analysis, NHTSA estimated that by 2010, over 85% of vehicles would already have EDRs installed in them; however, the mandate did provide a minimum standard for the type of data that EDRs would be required to record. The following 15 types of pre-crash data must be recorded for a minimum of 5 seconds, in half-second increments:
Delta-V, longitudinal
Maximum delta-V, longitudinal
Time, maximum delta-V
Vehicle speed
Engine throttle, % full (accelerator pedal)
Service brakes, on/off
Ignition cycle, crash
Ignition cycle, download
Seatbelt status, driver
Frontal airbag warning lamp
Frontal airbag deployment time, driver (1st stage, in case of multi-stage airbags)
Frontal airbag deployment time, right front passenger (1st stage, in case of multi-stage airbags)
Multi-event, number of events (1 or 2)
Time from event 1 to event 2
Complete file recorded (yes or no)
In addition to the required data, NHTSA set standards for 30 other types of data if EDRs were voluntarily configured to record them. For example, if a manufacturer configured an EDR to record engine RPMs or ABS activity, then the EDR would have to record 5 seconds of those pre-crash data in half-second increments.
In addition to the requirement that all data be able to survive a 30-mph barrier crash and be measured with defined precision, NHTSA also required that manufacturers make their EDR data publicly available. As of October 2009, only General Motors, Ford, and Daimler Chrysler had released all EDR data to be publicly read. Presently, Bosch CDR hardware and software can interface with and access nearly all vehicle EDR data, with the exception of Kia and Hyundai. Those particular manufacturers utilize separate systems, which comply with NHTSA requirements, but have not yet received judicial notice.
The NHTSA's August 2006 ruling set a time table for all vehicle manufacturers to be in compliance with the new EDR standards. The compliance date was originally set for all vehicles manufactured after September 1, 2010. NHTSA has since updated its ruling (49 CFR Part 563 Update), which gave vehicle manufacturers until September 1, 2014, to be in compliance with the original ruling. Presently, all vehicles containing an EDR and manufactured for North America after September 1, 2014 are in compliance with the current NHTSA standards.
How should the crash data be used?
Many law enforcement agencies (typically smaller departments) do not have the training and equipment required to image ACMs. They rely on larger departments to assist, as necessary. Further, many departments have protocols and guidelines regarding the severity of accidents and when ACMs will be imaged. Due to the severity of certain crashes, limited resources, and time, many vehicles are not imaged by law enforcement. Whenever possible, imaging should be completed by a qualified technician.
Generally speaking, it is not necessary to re-image an ACM if it has been completed by qualified personnel. When requesting imaged EDR data, be certain to request all available formats: PDF, CSV, and CDRx. The latter format is raw, unaltered data and is essential to analyze.
EDR data provide an unbiased look at vehicle operation in the moments prior to a crash. The data should be used as part of a situationally complete crash reconstruction and should not be used to replace a thorough investigation. All recovered data must be analyzed along with other physical evidence to truly understand how and why a crash occurred. But it's clear that EDR data are quickly becoming an extremely valuable piece of an overall accident investigation.
DIGITS LLC, a division of Avalon, has an Accident Reconstruction Unit that is experienced in interpreting and explaining ACMs, EDRs, and all abbreviations in between. Contact us for more information—or if you know whatever happened to those Crash Test Dummies. We're very curious.