Stock choices are endless. Different weights, different textures, different color shades, different finishes. With all of these variables, where do you start when choosing a stock that best suits your project?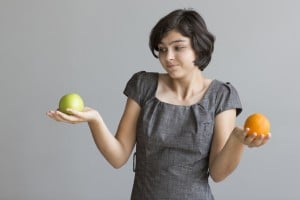 First, take a look at what you are printing. Are you printing a single postcard or a 50 page manual? The application in which you are using your printed piece will help you determine a lot. Second, take a look at your audience. Are you sending an invitation for your child's first birthday party or are you sending an invitation for your company's annual black tie gala?
---
---
After you determine the above, then it becomes about preference. Naturally, there will be stocks that you don't like and ones that you do like. For starters, let's take a look at paper weights, from lightest to heaviest, and what they are commonly used for.
| | | |
| --- | --- | --- |
| Weight | Grammage | Recommended Use |
| 20 lb / 50 lb Text | 75 gsm | Copy Paper, Fax Paper, Black and White Printing |
| 24 lb / 60 lb Text | 90 gsm | Light Color Coverage - Letterhead, Stationery, Resumes |
| 28 lb / 70 lb Text | 105 gsm | Medium Color Coverage - Letterhead, Stationery, Flyers, Brochures |
| 32 lb / 80 lb Text | 120 gsm | Heavy Color Coverage - Flyers, Brochures, Magazines, Booklets, Reports |
| 100 lb Text | 150 gsm | Heavy Color Coverage - Flyers, Brochures, Magazines, Booklets, Reports |
| 67 lb Bristol | 145 gsm | Raffle or Event Tickets, Door Tags, Postcard Handouts, Certificates |
| 90 lb Index | 165 gsm | Book Covers/Backers, Tabs/Dividers, Door Tags, Tickets, Postcards |
| 65 lb Cover | 175 gsm | Book Covers/Backers, Posters, Menus, Tickets, Postcards |
| 110 lb Index | 200 gsm | Tabs/Dividers, Posters, Menus, Tickets, Postcards |
| 80 lb Cover | 215 gsm | Posters, Folded Cards or Invites, Table Tents, Folders |
| 100 lb Cover | 275 gsm | Business Cards, Flat Cards or Invites, Posters, Folders |
Now that you have a handle on what weight stock you should run a project on, let's take a look at different textures and finishes. The first group of stocks is probably the most commonly used and most inexpensive. Typically these stocks are used on stationery materials, resumes, memos, and the like.
Wove stock is an uncoated stock with a slight texture. This is much like what you would see as your everyday copy paper. Typically wove stock is offered in text weights.
Smooth stock is not much different than wove, but has a more even feel to it, therefore it is 'smoother' than wove. Smooth stocks are offered in both text and cover weights.
Vellum stock appears to be smooth to the untrained eye. However, there is a subtle roughness, almost eggshell look. Vellum has a high ink absorbency rate and is typically seen offered in a 67 lb Bristol weight.
The next group of stocks have a visual edge against most others and offer a more professional, formal look. With this attractive look however comes a bigger price tag, costing more than majority of other stocks. These stocks are also not recommended for heavy color coverage pieces and can be found in both text and cover weights.
Linen stock resembles a linen cloth and has subtle lines that crisscross one another. Linen stock is a textured stock in which you can feel these translucent woven lines.
Laid stocks have fine translucent lines running parallel to the length of the paper. Like linen, this is a textured stock only with more of a ribbed feel.
Felt stock has a soft texture, cloth-like feel to it. Unlike linen and laid stocks, there are no textured lines.
Now let's move on to the coated stocks. This group is best known for high quality and heavy coverage printing. These coated stocks are typically offered in the heavier of text weights (32lb, 80lb, 100lb) and cover weights. Coated stocks are great for any materials that will be in front of your audience, whoever they may be. This includes but not limited to flyers, brochures, booklets, magazines, and posters.
Gloss stock has a sheen and reflective appearance. It can be coated on each side, or one side only. This finish will produce the most vibrant color prints.
Silk stocks are considered semi-gloss. While still shiny and reflective, the luster is not as high as on a gloss finished stock. Silk finished stocks are considered to be the middle of the road in terms of color vibrancy.
Matte finished stocks are without luster and have a dull coating. Even though glossy stocks produce the most vibrant colors, matte finished stocks still produce nice, professional quality prints.
Now that you have a little more knowledge of paper stocks, we hope that you can find one that is perfect for your next project. If you need some expert advice don't forget that you can call your local Avalon office. One of our team members would be more than happy to help find a stock that is right for you and your project!
If you liked this blog you might also be interested in reading: Envelope 101
---
Learn how Avalon can help with your company's marketing and branding materials.