Not every firm has the capacity to keep daily operations and staff in check, which can put the burden on both partners and administrative staff, who have other jobs to help make the business a success.
The following are five signs that your office could benefit from an office services company:
1. You've found yourself avoiding the water cooler so you don't get dragged into office issues. Pat and Terri are arguing (again) over who used the last of the money in the postage meter without replenishing the stock. They have no one helping them get organized or stopping them from shooting each other glaring looks all week and it's becoming obvious that you don't have time to properly manage your administrative staff.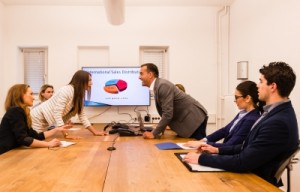 Not only have you never been in an administrative position, you also don't have time to give this situation the attention it deserves because you're involved in higher priority projects. Support staff can be crucial, behind-the-scenes players in making a firm run smoothly, but they aren't billing their time to clients, who (let's face it) really make things run.
An office services company will not only provide administrative personnel but will manage them as well.
2. A member of your support staff has the flu and you panic because you're up against a deadline. When an administrative team member calls in sick or takes vacation it can wreak havoc on a firm's daily operations. Having an office services company on site means no more approving time off or scrambling to find a temp agency that can place someone immediately. The office services company will, again, provide the support staff to run your copy center, and will also provide backup personnel to avoid these situations. The backup personnel will already be well versed in your operating systems and procedures, so the word backup almost doesn't even matter.
3. You feel that you're spending too much time and money on hiring and training. Finding the right people to replace support staff takes time – you have to write job postings, review resumes, and interview candidates. An office services company will do the leg work and only introduce you to worthy applicants, which saves you valuable time.
4. A copy machine vendor rep shows up and you pretend you're on an important phone call. When you're waist deep in files, the last thing you want to do is talk about your printer's impending lease expiration date. An office services company will take care of equipment leases and contracts, and will employ and train staff to run the machines and track copies/scans/prints. We also often see costly mistakes in equipment purchases. Check out our blog for the top 4 mistakes we find regularly so you can avoid making them yourself.
5. You hear of the latest eDiscovery tool that Smith & Jones has and you have to Google it. You haven't had time to keep up with industry news, so you're not even sure what technology you're missing out on. Your competitors' efficiency and technological advancements could give them an advantage.
An office services company can educate you on and supply you with the latest and greatest. Faxes are out. Time to get with it.
---
Outsource your office administration to save time and money!